Exquisite food and street food in Sicily: eat til you drop!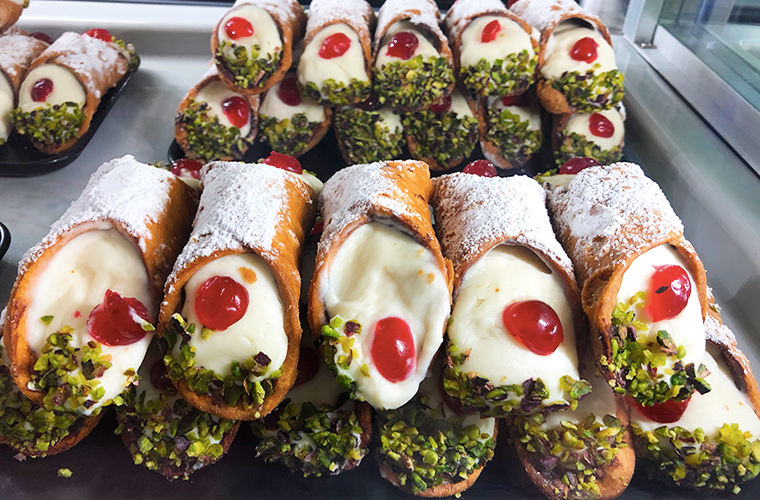 When people think of Sicily, they think food. Street food. Which does include food you consume standing at the counter of the local café. It is an important aspect of life. The pilar. 3 millennial of invaders have made Sicily the land of so many culinary delicacies. And the recurring theme is always common and non-expensive ingredients.
Whenever I think of my childhood, it takes me back to interesting yet beautiful places. I have vivid memories of my great grandma cooking a stew in an old cast iron pot. The wood burning fire will sometimes fill the house with smoke. Yet whenever she did open the pot, the intense aroma will fill the place. I grew up believing that food is what bind everything together.
Wherever I go, am always ready to try local dishes. So off i went to feast on food and street food in Sicily.
Cucina povera: simple and delicious meals are made on the cheap
A taste of street food is a taste of authentic food. Real food. And Palermo is street food paradise. Like many places, street food started out of necessity. As the cheapest and most convenient way to get a meal. The most efficient too. You will therefore find various varieties of street food and Arancini is on top of the list. It's the quintessential Sicilian dish. I feel you haven't really tasted street food in Sicily if you haven't tasted Arancini. In other words the stuffed risotto balls.
They are roughly the size of a small orange. As story goes, their coned-shape is said to resemble the iconic mount Etna. It's this wonderful mix of risotto rice, ragout and peas. It's flavoursome; wholesome. Deep fried, it is crunchy on the outside and dewy soft on the inside. It's pretty much amazing. Every street seller has his touch but the basis remain the same. It appears saffron and rice were a result of the Arabs colonisation. As well as the original name Aranciu, which stands for sour, small orange. The ragout stuffing in addition is attributed to the French. Sicilians are so passionate about their Arancini that a full gender fight between East and West broke as a result. Arancino on one side and Arancina on the other. A debate that today is still ongoing. The popularity of this iconic food however remains unchanged.
Sfincione, a dough topped with basic yet tasty and filling ingredients is another staple. Earthy and wholesome. Coarsely grated sheep goat cheese is sparingly added to the tomatoes and onions base. Along with additional topping such as anchovies and breadcrumbs. The thick dough is baked in a rimmed sheet pan.
Food and street food in Sicily means spanking-fresh ingredients and flavoursome dishes
In Sicily, caponata and parmigiana are essential. Staple dishes. They are also the perfect comfort food. They are in addition the perfect example of the deep love Sicilians have for eggplants. Caponata has garlic, capers, tomato sauce and fried vegetables. It has an addictive sweet and sour taste to it. It is labour intensive. Everybody loves caponata. Parmigiana is this melt in the mouth mix of eggplants, various cheese and breadcrumbs. Sometimes anchovies are added. Stuffed; Fried; Rolled with cheese; Baked; Tossed with pasta; Eggplants in many dishes often stands for meat.
Sicilian markets in many ways remind me of markets in Asia. In other words a bright human jungle. As soon as you step food in a Sicilian market, the first two things that hit you are the colour and the noise. Not any colour; The colour of the earth. Not any noise. One that is straight from the underbelly. The other thing that strikes you is the lack of rush. You are bumping into people every second because the markets are very crowded. Yet, no one is rushing around.
Food and street food in Sicily: a richness of flavours that is a reflection of Sicilians
Sicily is country a rich and long history. A succession of civilisation and cultures. The island was fought over and ruled by the Greeks; Arabs; Romans; Germans; Spanish to name but a few. So they all left their marks food-wise as they added layer after layer to the local cuisine. Places where this rich culture is noticeable are food stalls in market. Cooked and raw. For instance sweet and sour combination were introduced by the Arabs. The Romans introduced wheat. Spanish contributed with peppers and tomatoes. The greeks planted grapes; Phoenicians established the salt industry; And so on. So this is where the flavours of the island stem from.
Tradition and families are cherished in Sicily. Cassata Siciliana (cake filled with ricotta cheese and liqueur); Cannoli; Ice-cream; Pasta real (marzipan based desserts); Pasta con la sarde (pasta with sardines); Ghiotta (fish broth); Sfincione (tomatoey pizza); Parmigiana; Panelle (chick pea fritters); Arancini; Pasta alla norma (pasta with eggplants); In short food and street food in Sicily is a reflection of Sicilians.
It's that thing that brings it all together, tourists and locals alike
Sponge cakes cut in half and filled with ice cream and whipped cream. "Fooled-you marzipan lookalike fruit and vegetables; Ice mountains of fruit-flavoured granitas; Ice cream that barely begins with vanilla". I could not have put it better to describe Sicilians sweet treats. On top of this extravaganza choice of desserts seat the Cannoli. "Thick; Rich; Sweet and an unstinting proportion of ricotta cream all oozed into crispy cylinders of fried pastry". Chocolate chips and candied fruits complete the experience. That's what makes it so special. It think it is safe to say that Cannoli are Sicilian soul food.
I believe because of my culture am a born foodie. Not foodie as someone who who knows. I don't know much about food. Rather someone who truly loves food because it's a way of carrying traditions forward. It's that thing that brings it all together, tourists and locals alike. In short food and street food in Sicily are connected to history and history is entertained with food. Here in Sicily the food taste delicious. It's history you can actually taste and touch. Goethe said that "you have to see Sicily in order to understand Italy, because Sicily is the clue to everything".
You can follow the remaining of our Sicilian adventure here.
xoxo M. Let's share our travel inspiration.