Laidback Gothenburg and its archipelago: stroll and simply be happy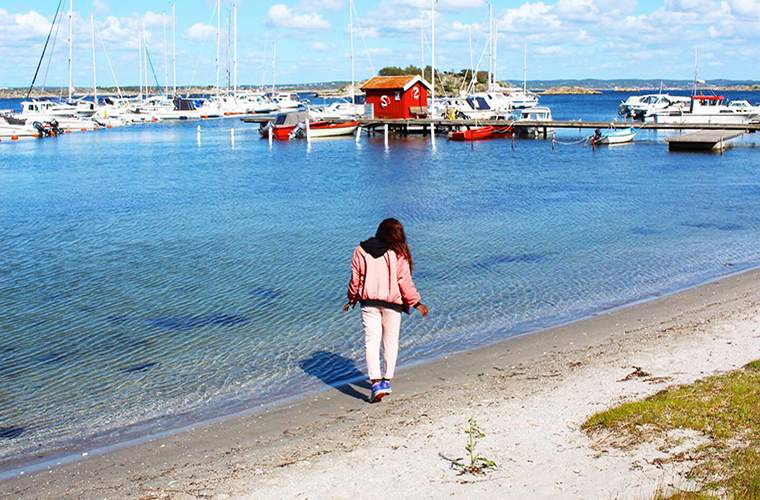 Imagine; Imagine walking into a place where calm and traditional scandinavian culture reminds you of the true meaning of the world accessible. A place where the scenic wilderness reminds you of the world environment. A place where modern city life reminds you of the meaning of outdoor living. Welcome to quaint laidback Gothenburg.
I am on a trip to Sweden's spellbinding and colourfull second largest city.
My love for Scandinavia and nordic countries runs deep. What is there not to love? I mean let's leave aside the flavoursome food and the amazing scenery. This large peninsula is home to the world's happiest countries. That's by itself is enough to attract me (granted not just me) like magnet is to metal.
I am back in Sweden for Stockholm marathon. Not that i needed a reason but, this is as good as any. Wanderlust calling frantically, i head to Gothenburg first.
If not the lifestyle, then the wilderness will steal your heart
Spring is just starting here. The weather is warm; The green route is at his lushest and daylight is nearing it's optimum.
Far from giving an adrenaline hint, the southern archipelago put the drama in dramatic scenery. It seats in the ocean, a mere 30mn boat ride from the city. Free-spirited souls and traditional culture aficionados live here all year round.
Nestled along the coast, the 5 traditional villages that make up Styrso have their own character each. Styrso is one of the island in the southern archipelago. The villages have terraced fields, craggy rocks and panoramic footpaths. The transparent sea water lures you in for a swim. Sandy beaches stock the area's chilled-out flame. The sun is shining bright.
A much-in-demand summer space with locals, the overall calmness right now hugs its arm around us. This is a carless island and the only noise that one can hear is that of the wind. Or a passing moped. When is the last time i saw a moped i wonder? If paradise had a name, this is not bad.
Leaving the panoramic coastline behind, wE make our way up through the ensconsed lush greenery. We reach Stora Ros, the highest point of Styrso island. A mere 500m above sea level. And what a view. Epic; Peaceful and dramatic views. A panoramic 360-degree view of the landscape. As far as the eye can see, the few houses doted here and there on the archipelago are mostly retina-calming pastel shades. Houses in soft pink, yellow and green velvet add a touch of colour to the startlingly blue water. In the distance, Gothenburg's coastline is waving hello to us.
I am not on a quest for inner recalibration, but, this pretty much does the job.
Laidback Gothenburg
The west coast and its amenable weather. Accross town and most specifically in Haga, soaring buildings with epic reddish velvet, grey and cream hues. The spirit of the city is mostly vivid in features such as the iconic red roofs, the fish market and deck chairs facing the sun everywhere. Water is never far.
The historical cobblestoned streets are lined with cafes and eateries.
Downtown, old-school bistrots open their arms wide open for that moment when it's time to kick back with a glass of wine; Shaded terraces are lined with chairs for people watching; Warm comfortable sofas and the quintessential throws call to enjoy outdoor living. I am taking all of this in and making photographic imprints in my memories. This is local culture expressing itself.
A walk to viewpoints doted across the city and i am embracing the sheer majesty of the landscape.
Calm, lively, traditional, modern. The city is clean and burstling with activity which is fascinating.
Making time for a Fika
Days seems to unfold rather peacefully. At 10.30am cafes are buzzing. This is the pulse of the city. A total sensory overload. Pile of cookies. Spread of cakes. Really all sorts of fresh-baked staples of the Scandinavian ilk.
The heavenly scent of fresh-baked kanelbulle and a healthy whiff of cinnamon hang in the air. I am in the land of Fika. This is the "Swedish tradition that, at its roots, encourages people to pause and reset." A time-honoured ritual as locals gather to enjoy one another. I was so looking forward to this again and once again it hits me right.
And i am more than happy to experience this lifestyle that really put the laidback in laidback Gothenburg.
It is this slowed-down, laidback pace and the somehow lack of pretention that makes me feel at home here.
There is something special about laidback Gothenburg that steals my heart
The gorgeous wilderness feels like a world away despite being a stone's thrown only. There is so much to explore and the city is incredibly connected. Somehow, the city still holds on to it accessible soul.
I am not going to lie, mother nature has been very kind. She is gracing us with gorgeous sunny rays. Watching the local appreciate and enjoy this gift is priceless. Hitting the local spa on the only raining day during my stay is just as priceless to experience local lifetyle.
When i first decided i wanted to explore Gothenburg, i did not have and extensive and full must-see list. I had a few places in mind i wanted to see.
One thing was precious to me: to spend time observing people here. To enjoy them and their way of life.
I wonder whether a couple of months here would be enough to scout out all the hidden gems and help me achieve really being in the moment. I look forward to coming back.
xoxo M. Let's share our inspiration