Corigliano d'Otranto: tale of a beautiful dormant village in Apulia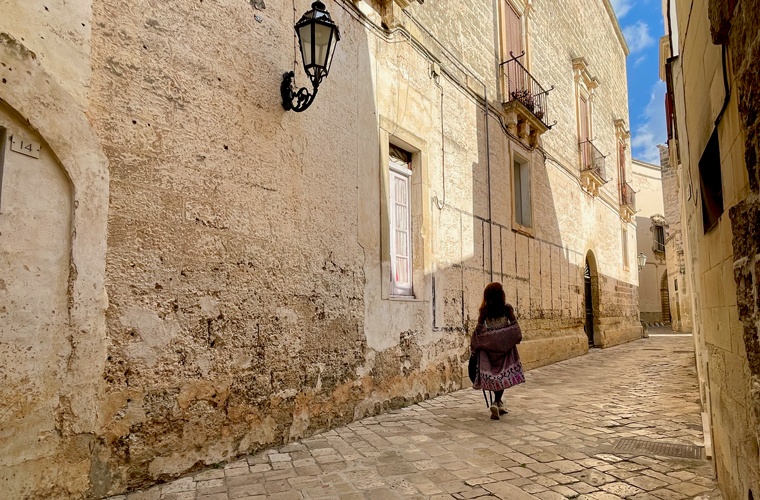 "It's so sleepy here it almost feels like it has been abandoned". By the same token though it is strikingly beautiful. This is my exploration journey in Corigliano d'Otranto; A tale of a beautiful dormant village in Apulia. Such a depopulated village is not for everyone. For me though it's a magnet. Because it means exploring; Walking; Attempting to communicate with locals in my very broken Italian; Eating. In addition, it means watching the world go by without any feeling of guilt.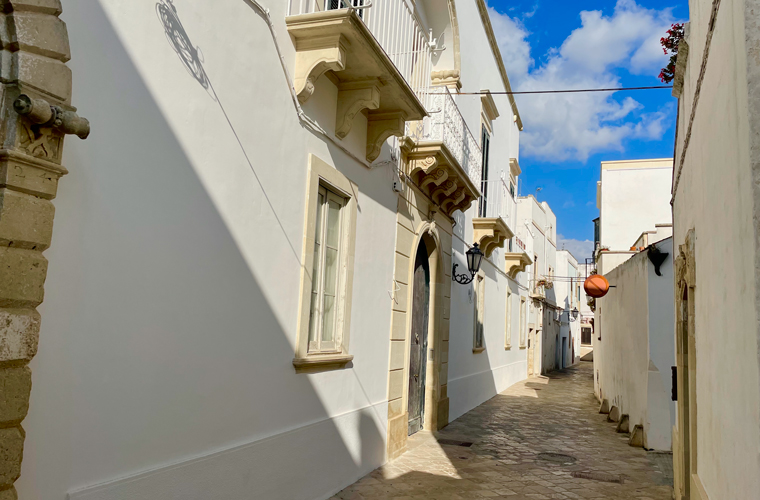 Corigliano d'Otranto was not on the map for me. I stumbled upon it as i was searching for castles to visit in the area of Lecce. Its rich history got me hooked a few clicks later. As the story goes Corigliano d'Otranto is one of the nine towns of Grecìa Salentina. Its inhabitants speak the Greek dialect Griko alongside Italian. The village itself lies comfortably in the province of Lecce, the heel of Italy. To get here, i hoped on a bus then an eerily empty train and finally ended at a station that truly felt like a ghost station. Olive groves further complete the picture.
A labyrinth of beauty
The centro storico sets the tone. It is a labyrinth of cobbled winding and narrow lanes. As a consequence it's so easy to get lost in its magic. In other words it is of heartbreaking beauty. In the afternoon, the light seats on the upper part of the buildings making magical patterns. The pale coloured buildings feel "as if they have evolved over centuries like some kind of architectural fossil". The latter washed by the "vicissitudes of time and the elements."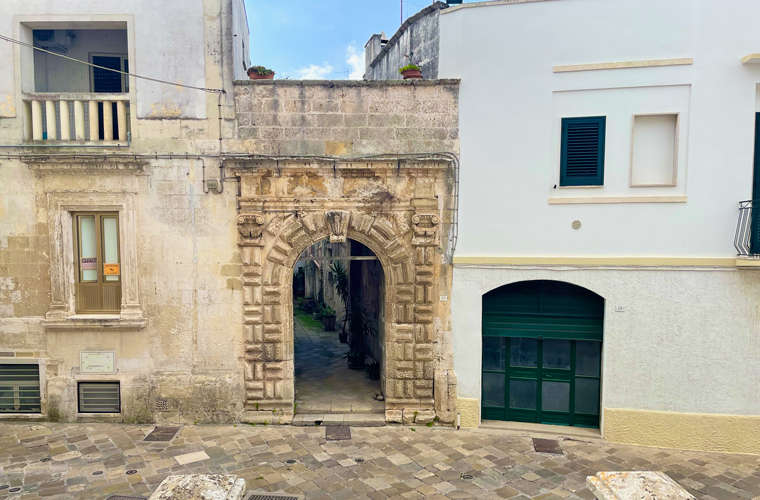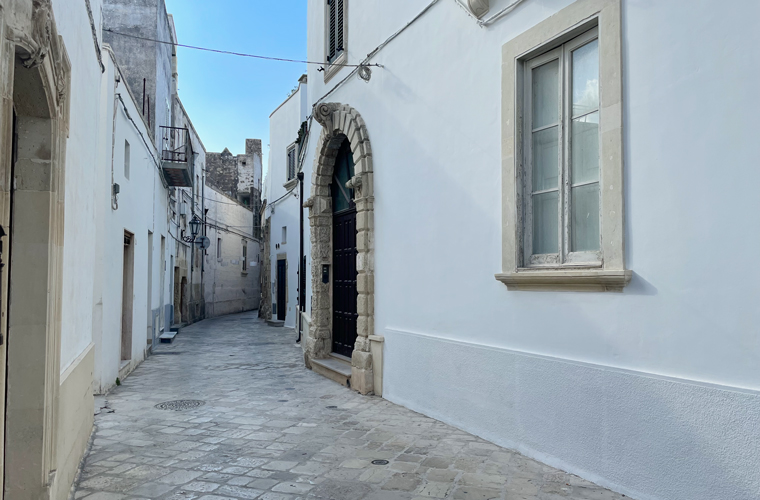 The small piazza San Nicola located in the heart of the village is like a beautiful set. There is a fountain; A pocket size bar where time seems to have stopped mid 80s music-wise. There is also a cafe and a clock tower. A baroque style residence, Palazzo Comi, adds an extra layer to the charming settings. An ancient portal, Arco Lucchetti completes this very picture of rusticity. From here, a maze of lanes branches of towards the castle and other parts of the village. Like many villages in Italy, there is a countless amount of churches. Similarly to other villages a visitor is spotted as soon as he sets foot in the village.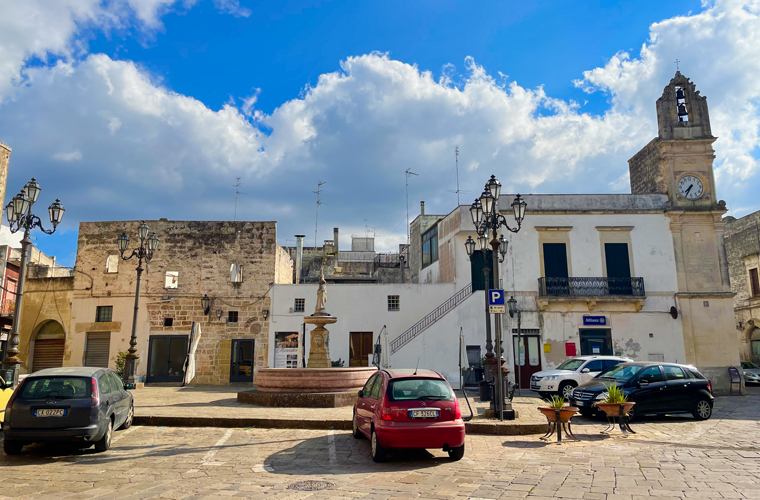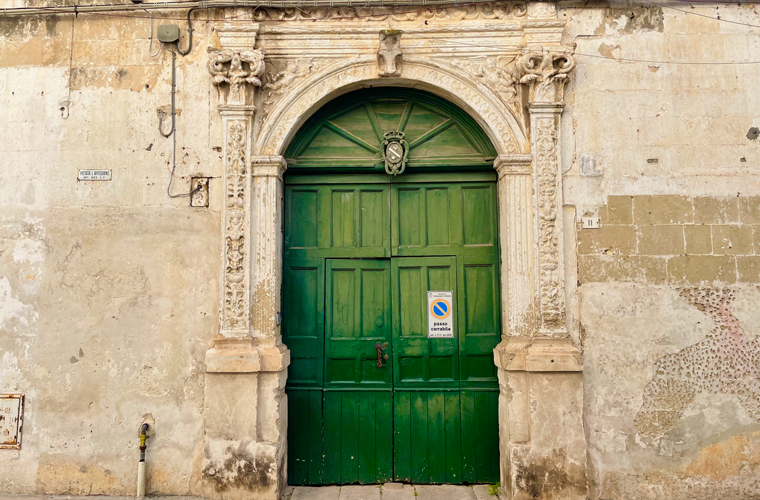 Corigliano d'Otranto: tale of a beautiful dormant village in Apulia
The air is scented with the lingering smell of the dry afternoon sun and olives. I can spot a few heads peaking through the open windows. They are very curious about me. I am very curious about them. Down the maze of lanes I stop at every church; Every crossroad; Every flowered balcony to get different vistas of this village. I find myself marvelling at little details like the quaint bright shutters or the pocket-size church. Unfortunately Castello de Monti is now closed for the season. It is believed to be one of most beautiful monument of 16th century military and feudal architecture.
Truly though the silence is the one one thing that hits me deeply. The afternoon is warm and I can hear the sound of my own steps as i embrace the cobbled streets. I can hear the birds' calls to one another. I currently live in Paris and i have grown used to the ambiant noise. With the exception of a passing car, it's very tranquil here. I can truly feel like i am on another planet. It is a feeling of child-like wonder. Of exclusivity. And above all of gratitude of this exploration. So far in my Italian journey, it is one of the most beautiful villages to walk around.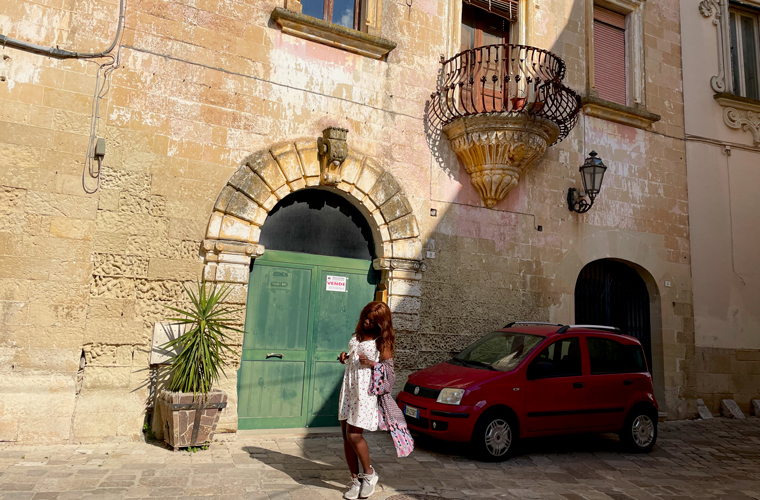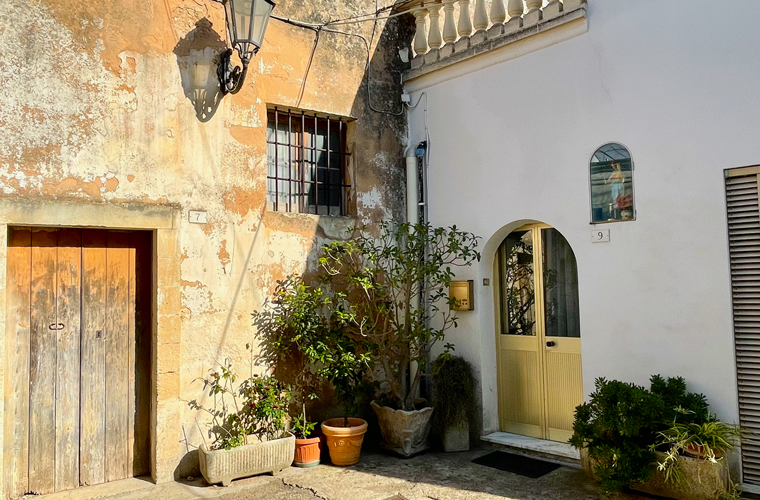 The door of the pocket-size church suddenly opens wide. From the corner of my right eye i can see a sturdily built man step into the doorway. He leans against the wall and stands there, looking at me. I smile and wave at him. He waves back. Fiddling with my tripod i proceed with snapping additional pictures of my surroundings. A few minutes later he walks towards me and offers to help with the tripod. I happily let him.
Broken Italian and sign language
I did not meet any english speaking soul during my journey here. However it's during a pause at the café that i fall in love with Corigliano d'Otranto. In the café it's only me and the lady of the house. We communicate in broken Italian-Spanish-French. Sign language add the much needed required help. No rush. No feeling of isolation. And no pressure to move on. The only occupation is the freedom to sip my cappuccino as slowly or as fast as i want. We seat there, trying to grasp a few intimate glimpses of each other's private life. It's almost like a spiritual experience. It feels serendipitous. In other words I do feel like I'm in the right place and at the right time. A place to savour and love. Isn't this the reason why we travel?
You can read the other chapters of this sustainable road trip here and here.
xoxo M. Let's share our travel inspiration