Happy snippets from a lockdown wonderland: my intimate glimpse
I define myself as traveller and an aspiring explorer. As travel restrictions keep us grounded i look at ways to escape. I therefore shift my focus on homeland. Home that i have seldom viewed as a destination but more like home. From the onset of the pandemic, we have had a collection of restrictions: lockdowns, curfews and the ones in-between. Over the past year, it has, as one journalist put it, "been either discouraged or downright illegal to stray far from your residence". So, to experience a sense of travel, i would take my camera with me two to three times a week before work. The result is this collection of snippets from a lockdown wonderland: my intimate glimpse.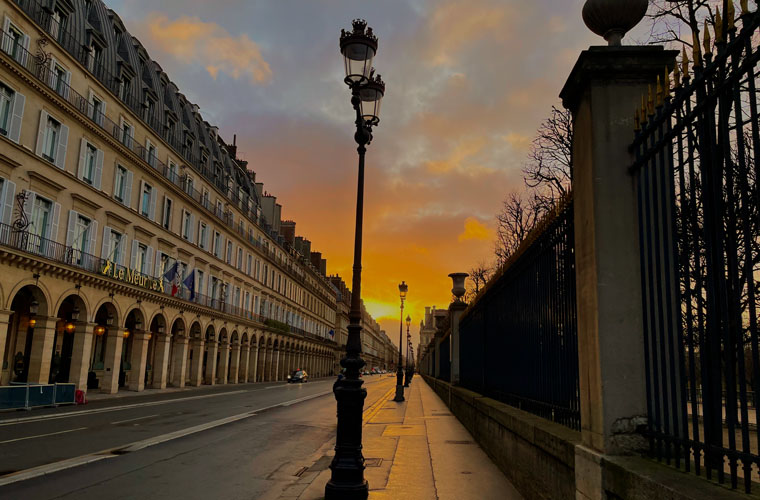 It starts as something to do to break the monotony or these indistinct days. Soon, it becomes a challenge. After that it turns into an addiction. Finally it grows into some kind of celebration of the beauty around me. I spend months walking the streets around my homes. First of all in Saint-Jorioz where i isolate myself with five friends during lockdown number 2. Or Lockdown season two as i like to call it. Then in Paris for lockdown season 3.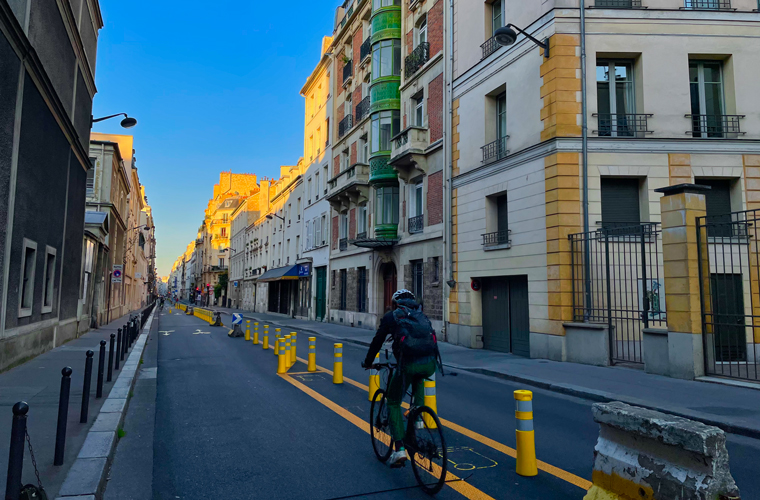 Saint-Jorioz is a little village on the southern part of lake Annecy, south of France. You may or may not have heard of the place. It came in my radar when my friend mentioned his family house down there. In the summer, Saint-Jorioz is as packed as its neighbours as France flocks to seaside towns and the Alps. In the winter, it is as deserted as a faded seaside village.
I am an adopted citizen of Paris. A city that requires no introduction. Number one on everybody's celebrated bucket list. Our expectations of the city are quite specific; From the scenes of daily life to Parisian street style. From the "intangible cultural heritage" that is food to the philosophers statues adorning the architecture of Le Louvre museum. Paris, as Audrey Hepburn said, is always a good idea. So i set off on a trip to look quietly and document the scenery of my home. Snippets from a lockdown wonderland. I set off to view my back door with, i hope, a different set of eyes.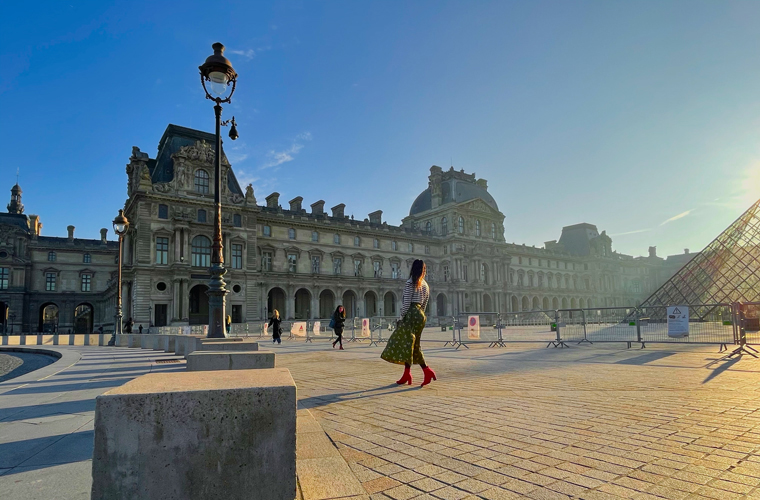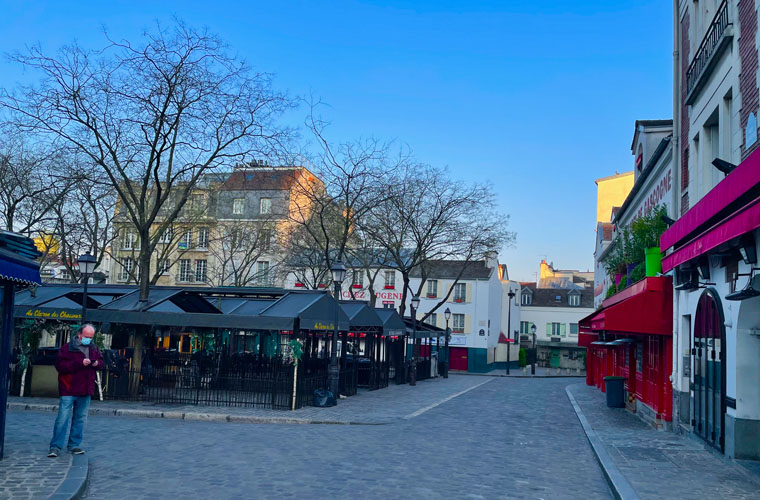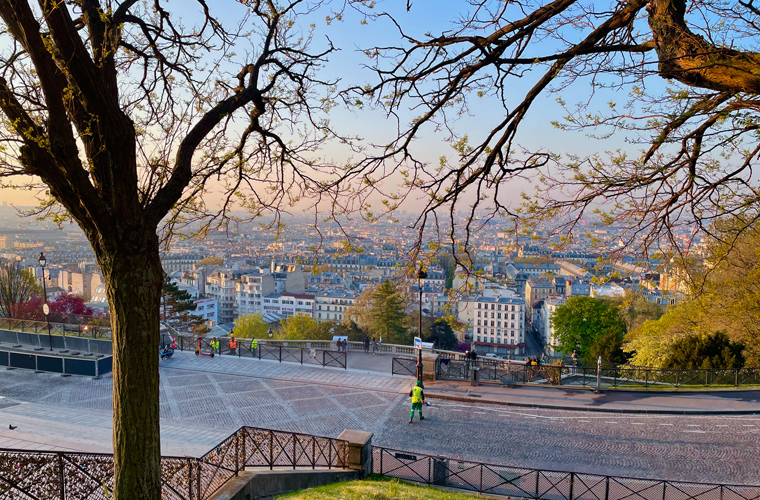 I spend days and months chasing the light and the Spring in Paris. Some days, closing the door behind me at dawn, it doesn't sound like the most exciting thing to do. Soon enough though, with my camera in hand, it becomes the most exhilarating experience i have had this past year. I always set off between 6am and 7am. I want to catch the softest light and sometimes the first light. Sometimes i would set about on my bicycle.
Most of the time though i would just walk. I work entirely alone. As one of my friends said, I am the photographer, the DA and sometimes the model. I am by no mean a photographer. So i only carry my tripod, my camera i am yet to use properly and my Iphone. Sometimes I also carry a special blouse or jumper to ensure I fit the backdrop when i am in the frame.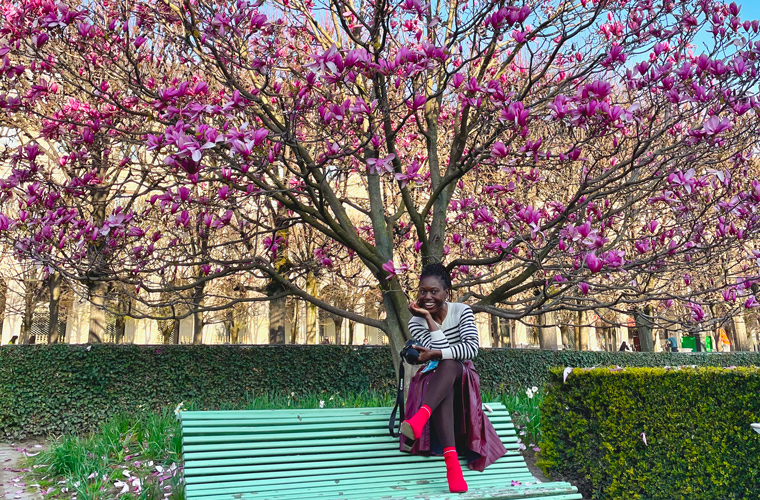 Whether in Saint-Jorioz or Paris, all my pictures are taken at a maximum range of 10km radius of my home. In other words the legal roaming distance imposed by lockdown. Without the promise of social interaction i was perhaps hoping for, strangers remain strangers. I therefore choose to focus on landscapes and street life. So these snippets from a lockdown wonderland are my intimate glimpse.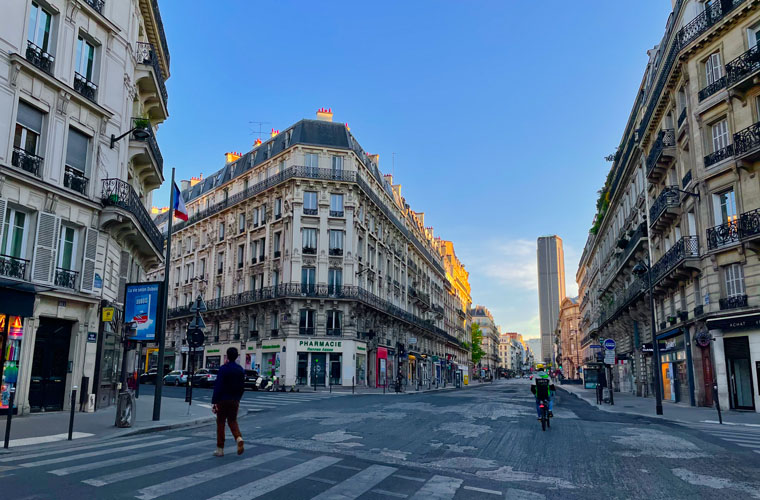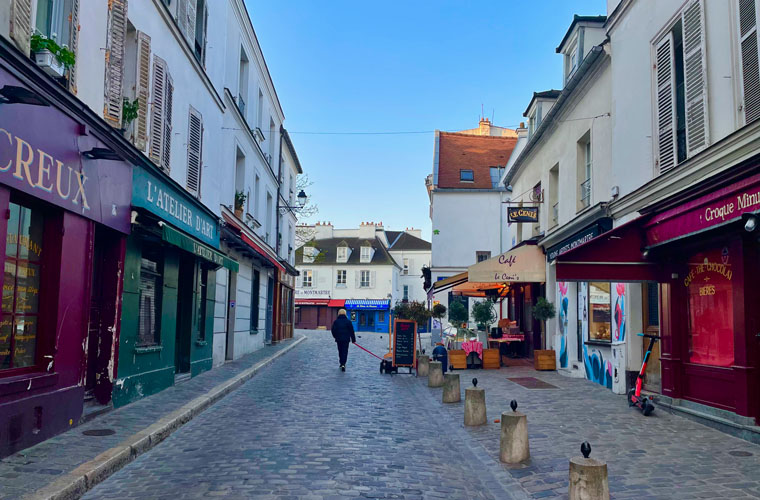 What i didn't expect is how hugely satisfying, gratifying and rewarding these wanderings would be. And addictive too. Light and shades become playgrounds as i get to discover little details and the soul of my homes. And never once did I get bored. There is so much out there to see. So much to explore. It feels like i have been travelling. And my pictures are, as i like to believe, a visible collection of my memories. To quote the travel photographer Roff Smith "It's brought home the truth that you don't need to board a plane and jet off to the far side of the world to experience a sense of travel or the romance of difference. It lies waiting on your doorstep — if you look."
xoxo M. Let's share our travel inspiration