Trekking Mount Etna summit and craters: even more awe-inspiring than told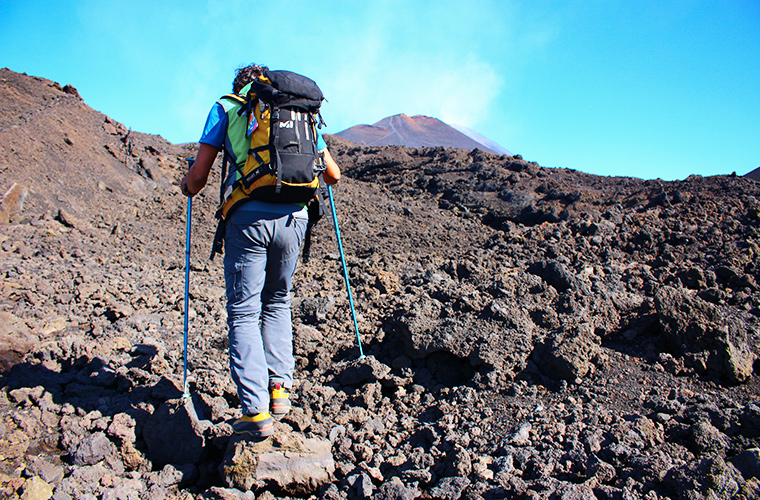 I am fascinated by volcanoes. Ever since i was a teenager. So an encounter with Etna was more than an evidence. Even more so as trekking mount Etna summit and craters is what i had in mind. A proeminent backdrop to Catania, Mount Etna is both feared and revered. Locals here turn to St Agatha, Catania's patron for protection. A few years back, Etna rumbled to life with such power that the avalanche of ash and hot rocks destroyed everything in its path. The thick slurries pouring out of its underbelly travelled huge distances.
I have been to mainland Italy before but Italy is not Sicily. Some parts of Sicily feel like a place where tourism doesn't quite overpower all yet. Through some readings of Etna I have pictured the magic of it. I have to some extend lived precariously through other people encounters with the volcano. Therefore over the years it became a dream.
A muntagna
Here, the volcano is called the mountain. I figured out that seeing it on a trek would make the whole experience more incredible. It is this very mild format of adventures that feed my cravings for intensity and satisfy my exploration needs. In September this year I got my wish. Getting up close and personal with what shapes us all: Mother Nature. Trekking Mount Etna summit and craters. Getting to see all the terrains and simply feeling like I am part of this ethereal nature.
Mount Etna is the largest active volcano in Europe. That means it can erupt anytime. So much so that our day hike tackling the uppermost lava flows is shortened. Volcanic activities of the day and night before are not to be ignored. Trekking Mount Etna summit and craters remains exceptional.
As the hike progresses, every steps is so vastly different from the others. The colours, the elements and everything in between are really incredible. The views feel like what I imagine to be walking on the moon. The rocky dust sometimes resemble the consistency of black sand. Other times it is copper red. We are following the magma route of the 2002 eruptions. Every now and again we encounter these colonies of ladybugs. And the moment when one simply wonder how do you survive let alone live here little ones?
Perks and standouts of trekking Mount Etna summit and craters
A few hours hours in and high up we are standing a few metres away from this massive drop in the landscape. The consistent fog blocks a large chunk of the view below. One unfortunate blink and someone's presence amongst the living will suddenly come to a holt. The immensity of it is all too palpable. You know it's like when you are just standing in front of the most incredible piece of nature. The incredible feeling of humbleness and gratitude is instant. In short it is all pretty amazing.
The most standout occasion comes when we get to run down Mount Etna's flanks over the course of a 3-400m. It comes about 2/3 of the way through on our descend from the top. It's about 2pm in the afternoon. Our guide leads the way. So here we are all literally galloping down this sandy-like and uneven terrain. For a thrill seeker like me this is a piece of heaven. You are accelerating and hitting the ground with your heels. All I keep telling myself is do not fall because the ground is quite uneven.
The most exhilarating moment is hearing the volcano rumble. As a result it belches a haze of gaz. It is this element of danger and beauty that really hits the core of my soul and body. The rumble commands nothing else but humility and respect.
The perk of this hike however is being able to bond over a fall, a blister or a giggle with my mates. That's truly the magic of trekking Mount Etna summit and craters.
Enjoy the journey even if the journey seems to pass in a flash
Physically, this trek did not exhaust me. Am a fit girl. However i feel low after the hike. It surprises me to realise it is a bit difficult mentally to come back from up there; I absolutely didn't expect this to happen.
I guess when you spend so much of your time imagining what this cherished aspiration would really feels like. Then it flies by in a second. Despite the immense feeling of accomplishment, I cannot help a "what, is that it? Please let's start over again". In other words, I simply want to stop the time. The pressure I unknowingly put on myself slightly overshadows the delight and the feeling of awe. A pressure to grasp every moment.
My mates didn't need rehabilitation. And that's the magic of realising a life long dream. Our grasp of reality is what other people confirm or do not confirm. I took me some time to recognise and appreciate what I've just done. Trekking Mount Etna summit and craters. Since then, the smile hasn't faded. I plan on heading back there to explore even more of that incredible nature. There is so much more of this land that truly inspires my obsession.
Your can read the next chapter of our Sicily adventure here
xoxo M. Let's share our inspiration