Our road trip across authentic Sicily: a flaneur's dream journey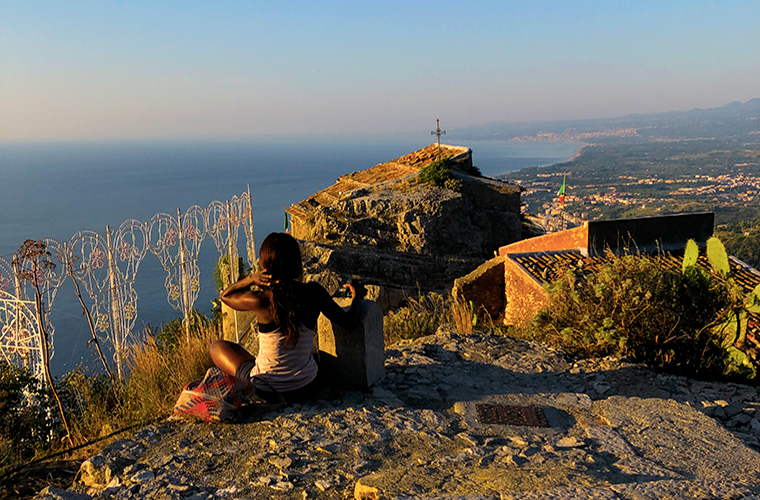 We embarked on a road trip across Sicily. An island that is similar to a treasure box. A gem waiting to be discovered around every corner. A country of faded grandeur; dilapidated beauty; mind-blowing canyons; smoking volcano; pristine beaches; hillsides sun-drenched villages; craggy mountains; vine rows; mouth watering cuisine. In short Sicilians will tell you that Sicily is a country on its own. A country that requires an abandon of speed. A country that requires flaneuring.
The island is indeed a treasure. And those who took their turns with the colonisation of the island left their marks; In short the Arabs, the Romans, the Greeks; the Bourbons, the Byzantines and the Normans. The island is in addition big. So the expectation to experience as much as possible can be overwhelming. We nonetheless chose to slow it down; We choose to get to know some places only. In short, Sicily is a flaneur's dream destination. 
For this road trip we therefore favoured the east and south. A journey that will consequently take us to Catania; Taormina; Etna; Various canyons of which Sicily's own Grand Canyon; The valley of Noto; Agrigento and Palermo.
From apron wearing strong mamas and men checking hemlines; From apricot coloured towns that radiate sweetness; Noisy and dramatic cities where angels look up to the sky; To volcanoes; Waterfalls and clear natural pools; To Unesco-listed historical landmarks. This road trip across Sicily in short has our curiosity and willingness to learn prioritised together. So I caught up with my mates to talk about their experiences of the journey; To share their travel moments. To sum up below are their stories.
The travel moments of the road trip across Sicily
What did you like about the road trip? What was it like being there?
Isa: the richness and diversity of landscapes. The culture. The history.
And indeed once there, the array of places to discover is impressive. Wilderness. Remnants of history. Seaside resorts.
Ines: being of Mediterranean origins, I have always viewed Italy as one of the countries where it feels good to live. Generous food. Conviviality. The sea. Golden sand and sunshine all year round.
What's your favourite part of the road trip and your least favourite. Why?
Isa: my favourite place is la Scala dei Turchi. A magical and timeless place. We had the excellent idea of getting there at sunset. In short this natural site is out of the ordinary; You have to live it to understand; The sensations; The light; The subsequent feeling of indulgence; The "midnight bath" in the warm and inviting water. In other words it's a magical interlude.
Ines: there were many beautiful moments. My best is still the hike to Mount Etna. Seeing an active volcano and the many rocky mountains is exceptional. The least striking is perhaps Syracuse where I saw nothing memorable.
What's your most memorable part of the trip. Why?
Isa: the most memorable moment is the one described above as it is a wonderful gift from nature. Once you have gone past the small path and a very welcoming beach, it is a gorgeous discovery.
Ines: another highlight of the stay is the visit to the Greek temples in Agrigento. A city perched on top of a hill; the latter is full of history as it houses one of the best preserved temples i.e. the Temple of Concordia.
Laughter and memorable moments
What was the funniest moment? Why?
Isa: unfortunately, I was quite ill during my stay so the hike to Mount Etna was not in the best conditions. So when the handsome Italian guide noticed my weakness and grabbed my hand, there and then I felt myself growing wings. Connected with this professional of the heights I flew over the ash piles like a little bell fairy; It did make my friends and I laugh hard.
Ines: on a trip with my girlfriends there were obviously a lot of great moments of fun and laughter.
Do you remember the best dish you had? What made it memorable?
Isa: overall I was not a fan of vegetables grilled in olive oil. They were everywhere including the big central market of Palermo. The latter is a place not to be missed. Just like this city in general. Magnificent cathedrals. Palaces. Churches. Theaters. We discovered all of this during our walks and shopping tour. More of that later. Back to food. I also discovered that Sicily houses a specialty of lemon salt as well as honey from mount Etna. The Sicilian wine is magnificent… It is a must to take full advantage of the vinotecas (with or without cold cuts; delicious 😋)… That is also one of my best moments😉
Ines: THE good discovery of our stay is the caponata. A sweet mixture of aubergines, peppers, capers, olives and of course the quintessential Sicilian olive oil.
Memories of a lifetime
Is there a place you fell in love with. Why?
Isa: I would say Cavagrande del Cassibile. These are natural swimming pools in the middle of nowhere. You reach these after a long descent. A wonderful outing in privileged and exotic settings.
The Gorges of Alcantara are similar in settings. A gift of nature that can be enjoyed at weekends with family and friends. A moment of relaxation and swimming. A gorgeous change of scenery.
Ines: as mentioned in the most memorable part
Did you see things you didn't like?
Isa: The "dirt". Garbage collection are differently from the continent and it's quite shocking because it's the first time I've seen this in all my travels. In addition the locals seem to have little sensitivity to environmental issues.
Ines: Even if the Italians seem rather welcoming, the fact remains that some "conservatives" still point the finger. I didn't always feel welcome in certain restaurants, bakeries and other places.
If you have had more time, what would you have done?
Isa: Would have loved to explore the islands. That tough would have required additional time. This time round we explored a large part of the main island. So exploring the islands is the perfect opportunity for a new trip 🙂
Ines: One of the must-do in Sicily is the Sicilian islands i.e. Stromboli or Vulcano… This requires a dedicated trip that is already in my wish list 🙂
You can read the first leg of this journey across Sicily here.
xoxo M. Let's our travel inspiration