Jewel of Sicily: what makes Taormina so unique and magical?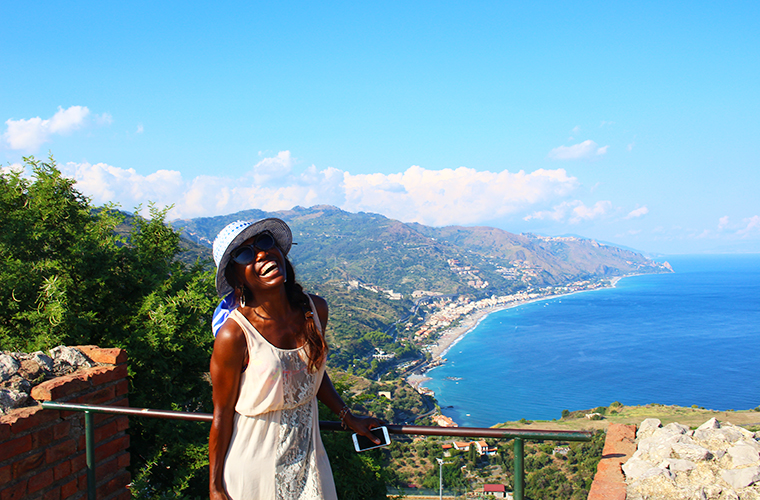 In Taormina, the rolling rhythm of the sun, the sea and Sicilian delights shape every moment. Picturesque Taormina is a colourful cliffside perch virtually straight out of a Fellini movie. It flashes its joie de vivre spirit attributed to rich history and Sicilian dolce vita. Why is Taormina the Jewel of Sicily? Why is it so unique and magical? "Were a man to spend only one day in Sicily and ask, "what must one see?" I would answer him without hesitation, "Taormina." It is only a landscape, but a landscape where you find everything on earth that seems made to seduce the eyes, the mind and the imagination." (Guy De Maupassant). So on this journey I want to see and taste how la dolce vita works here.
Taormina is reminiscent of Italy's more famous costal towns. Which also includes the crowd. It is surprising because you are hit in the face with some beautiful things. In short the city's hidden gems are found on either side of the town. Up in the hills and down by the sea. So in a city where historically it is see and to be seen rather than do, this can sometimes feel like discoveries. 
A unique landscape with the early morning light
It's 5.30am. I grab my shoes and head out by myself to Madonna Della Rocca. The sunrise is due soon. For the past couple of days, I have watched the sunrise from the balcony of our airbnb. This time I wanted to get the view high up from the hill. Where Madonna Della Rocca church is located. I follow a path partly illuminated. A mixture of fear and excitement grows inside me as it is still dark out here. At the very end of the path sits an imposing church on one side. The remaining of an old castle seats on the other side. Castello Saraceno. The most ethereal sunrise greets me as I reach the top of the stairs. I wanted this. A ballet of blue hues transitioning into purple and orange as the sun rises. A view that leaves you speechless.
There is something about sunrises. It is something I am always craving for. Maybe it is that feeling of everything waking up that makes it so special. Powerful as a matter of fact. I am mot alone. Two locals sitting outside the church keep me company. If the lines on their faces could talk, they would tell a thousand stories. Glances are exchanged. Shy smiles sweep across faces.
Magical sunrise in Taormina, the jewel of Sicily
It truly is jaw-dropping how the light at sunrise brings out the colours of Taormina's landscape. The sandstone rich colour glows against the dramatic blue backdrop. Just blissful. So here with this magnificent panorama at my feet, I am humbled. In other words I am suddenly feeling vulnerable. Insignificant. A tiny grain of sand.
The first church goers assemble outside the cathedral. Elderly whose lines on their faces bear the passing of times. They smile. Gesticulate. Embrace one another. Speak with their hands. It's said that Sicilian hand language is a language on its own. The crowd's shadows dance in the glowing morning light like mesmerising figures. It's indeed Sunday morning. My favourite time to capture those intimate human moments. After a while, I shy away smiling and head towards Castelmola.
A cultural hotpot as a backdrop to picturesque Taormina
Sicily is known as the 1000 civilisation island. Taormina is just another perfect example of this. In the upper part of the city the temple dominates the town. The Greeks build the temple to play tragedy. Five centuries later however, the shows held by the Romans are making Taormina popular. No more Greek tragedies. Gladiator fights and other Roman games instead. Ornated pilars decorated with stones frame the theatre. As a backdrop the view of Mount Etna. In other words an utter display of grandeur.
Taormina seems to have been born bright. As a result, some have labelled it the jewel of Sicily. A high perched defiant village at the foot of Mount Etna. Below the village the azure blue sea. To reach said sea, steps, steps and even more steps.
A few steps inside the town seats la Piazza IX April. Halfway though Corso Umberto. This piazza is not only rich in cultural references, it is also home to the other most gorgeous panorama of Taormina. We are 200m above sea level. Here, you certainly get to comprehend that Taormina is indeed hanging on the side of the mountain. Breathtaking.
Love is held to be the cradle of Maiolica pottery art in the jewel of Sicily
Wanderlust leads us further in. Taormina the jewel of Sicily wears a less glamorous face. Old and dilapidated buildings here and there. Rampant ugliness. It is a familiar story in Sicily. Our wandering in the underbelly is however never far from little gems. For instance Vicolo Street. A street so narrow one can barely stretch one's arms. Likewise our feet lead us to Don Corleone's art studio. Not the Mafia's Don Corleone. Rather a ceramist who want this particular name to be associated with the beauty of Sicily. Most of his art emphasises the cultural value of Sicilian ceramic heads. Moorish Heads or Teste di Moro. Incidentally these are seen in many balconies. 
Legend has it that moorish heads are a consequence of love. It appears a Moor merchant walking the street fell in love with a local girl standing on a balcony above. She lived in Kalsa, the Arabic district of Palermo. Consequently they live a passionate and beautiful love story. That is until the girl discovers her beau has been holding the truth from her. It appears that back in his homeland he is a married man with children.
Hell hath no furry like a woman scorned
Stricken with jealousy the betrayed girl one night finds a way to keep her man forever. As a result she beheads him and use his head to grow basil plants on her balcony. Passers-by and neighbours soon grow jealous of her green thumb. They incidentally lined their balconies with similar head shaped clay pots. In other words they were hoping to have their balconies filled with thriving plants. Although nowadays there are several types of head shaped clay pots, the original ones remains that of a white girl and a black man.
Looking for la dolce vita? We found it. I don't think I have experienced such a sweet landscape. Sweet is the closest word that springs to my mind. The light here captures your mind. The ambient beauty makes you love the ugly sides. The loudness makes you seek out the quiet places that Taormina the jewel of Sicily hides. It is those that get you to dive deep. It is these that get you hooked. The lure of this place is that it draws many in search of the Sicilian dolce vita.
You can read the other stories of our Sicilian adventures here.
xoxo M. Let's share our travel inspiration