Scala dei Turchi of Sicily: How emerging into the ethereal cliffs begs the question of what it means to be a responsible traveller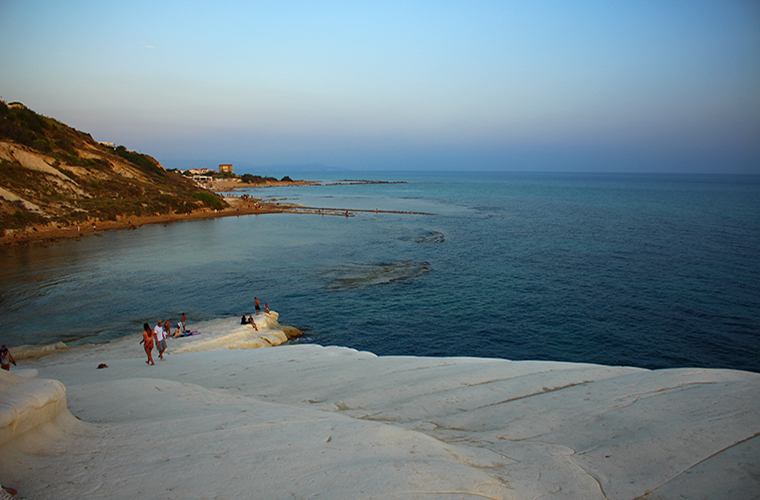 Sicily is a pocket full of treasures and we are barely scratching the surface. My recent trip to Scalei Dei Turchi proved to be more of a stark reminder. A reminder of our responsibility as travellers. Scala Dei Turchi is everything any traveller could want. It's like "a big meringue covered with sprinkles". However this idyllic landmark also begs the question of what it means for each of us to be a responsible traveller.
My desire to do as much as possible stems deep. A a student I was brought up as a high achiever. This also translated into my travels. I would spend from dawn to dust exploring places. Basically the need to see and do it all. A need to capture all I could within the short time span I had. It all changed on a trip to Thailand when something snapped. It was the first and only organised trip I ever took. Our guide, a flamboyant man, would get us up the crack of dawn. We would then spend a countless amount of time on a given site. This ultimately would puzzle me. Fair enough there wasn't any need to rush but still.
One day over a discussion he told me than to experience more, I needed to do less. I needed to take it slow. Very slow. It took me a while to process and adjust once back home. That is also when I started to reflect about my responsibility as a traveller. I never looked back since.
Smooth chalk white terraces once home to barbary pirates
Scala Dei Turchi in Sicily's southern shore means stairs of the Turks. Or Turkish steps. These white cliffs are located in the stretch of sea between Porto Empedocle and Realmonte. A short drive from Agrigento. Nothing can compare you to the first view of Scala Dei Turchi. Imagine standing on a beach. In the horizon are cliffs that stretch out like a waterfall of clouds dropping steeply to the sea. The rocks are a combination of white marl and limestone. Over the years, the salty breeze has shaped these rocks. Hence creating the smooth terraces that now resemble fluffy and dewy meringues.
As we near the bottom of the cliffs, they rise like delicate and immaculate giant white clouds. Mysterious; Mesmerising. In addition, the sun is low, ready to display the show we have come to enjoy. A sunset. We are not alone though. I leave my friends who have settle amongst the crowd and move further away. As I round the bend on the cliff, the smooth sparkling terraces begin to wear a golden colour. I am wrapped with this sense of walking on air surrounded by silence. The honey coloured sky bounces off the blue sea. The chalk white rocks are splotched with gold while a slight breeze moves over. It is impossible to stand here and not feel the languorous pace of the moment.
Looking at the outcrop above immediately begs the question of what it means to be a responsible traveller
The next day, we are back on the cliffs. This is how the story goes. Back in the days the bay provided shelter to Arabs and Turks pirate ships. In addition they are shaped like stairs. So this is why these cliffs are named Scala Dei Turchi. At this time of the day the temperature is already well into the high 30s. The sun is high and our eyes are working overtime. The bright sun gleams on the highly polished immaculate white cliffs. We climb up and move deeper on the terraces towards the more secluded beach. The chalky-white surface is here and there covered with splits and cracks.
Getting to the rock formation is part of the adventure. Reaching the beach down below is disconcertingly as fun as running down a rocky path. Not for the fainted heart. We thread down the steep crack in the rock, hanging on to anything possible to avoid a fall. Once at sea level we are rewarded with an arresting scenery. The water is the colour of an opal blue jewel. The almost deserted beach stretches its limbs along the short bay. The sand is a mixture of shell fragments, sand and tiny stones that look like quartz.
In other words it's like being huddled in the shelter of a giant. The air bears the salty smell of the sea. In between swimming and sunbathing, I look at the outcrops above. The cliffs rise like ethereal giants. I feel a sense of wonder but cannot shake the concerns away. Because these ethereal giants are in danger. And the responsibility of this also lies with us travellers. Ultimately, the question of what it means to be a responsible traveller cannot be eluded.
Choosing to see the world with a fervour for travel is magical and a responsibility
If you are anything like me, then we are in agreement that our lives are a consequence of conscious decisions we have made. We all want to capture memories of our travels. We want to keep memories we can touch or feel.
Removing a stone or a bottle of sand may not seem like much. However, what are the consequences when so many do that? Ultimately, it begs the question of what it means to each of us to be a responsible traveller. Exploration is as much opting for experiences as it is a focus on learning and being responsible. Choosing to see the world with a fervour for travel is magical. It is also a responsibility. It is a gift of living local culture. Just as much as capturing memories and turning them into stories.
As far as I am concerned it is our responsibility as travellers to look after these places. Above all there is no need to take anything else from the ground. The memories in my head and on my SD card are enough.
Having frolicked the heat of the day away in the water, we head back. I look back and in the distance, the smooth marl terraces proudly pitch upwards. Their faces blushed with the surreal mineral colour.
You can follow the remaining of this Sicilian adventure here.
xoxo M. Let's share our travel inspiration.