Momentous beauty of Lourmarin: the warmth of the old Provence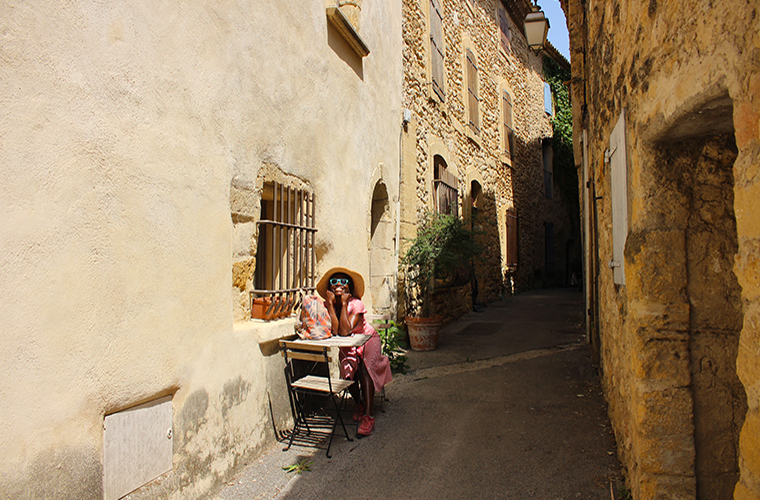 On a summer morning in Provence, France, my two mates and I did one of the things we loved best: we grabbed the car and headed east towards the village of Lourmarin. History has it that none other than Albert Camus settled here. Under the same blazing sun, we park our car and gaze directly before us at this wonder of a village; Lourmarin: the warmth of the old Provence. Hailed as one the most beautiful villages in France. Its charms has seduced more souls than anyone can remember.
Growing up in Marseille, I fell in love with Provence when I was a little kid. Not only is Provence a bed of culture and traditions, it is also the breadbasket of France. It is in addition a feast for the eyes. An explosion of colours and textures all year round.
The old Provence dolce vita
My friends and I have come to this sun-baked village to experience its dolce vita. A douceur de vivre that has made it a favourite haunt of artists of the time. Nestled in the heart of Luberon and Provence, Lourmarin is surrounded by glinting olive groves, almonds trees and vineyards. It is at the base of the Luberon mountain. We park our car near Le château and gaze at the winsome stretch of open land before us. There a herd of horses goes heedlessly about its business. The chateau seats on a rock outcrop and dominates village below. There its pale creamy stone magnificently and insistently shines. Leaving the castle behind, we head towards the centre of the village.
Lourmarin: the warmth of the old Provence. Its charms are many and begin with its haunts and the skies. Those skies Albert Camus describe as "bright, unobstructed and wind-swept". Skies he has said remind him of his native Algeria. So much was his love of the village that him and his wife lie side by side in the village cemetery. The larger than life charm of the village continues in its maze of cobblestoned streets and winding lanes. A result of its medieval and renaissance past.
Smiles are as common as wanderers
The sun controls the sky. It is hot and dry today and the air has a special perfume. The sky has that glow so typical of Provence. True to guidebooks the centre of the village has the prettiest plazas and cutesiest cul-de-sacs. Moving further the main narrow streets are filled with charming boutiques and cafés. Rattan chairs and white tablecloths here. Vintage memorabilia there. Over there old granaries. Tall beige stone houses. Old doors. Whitewashed plaster walls. Red tiles roofs. Romanesque churches. A shop here is filled with antiques, fake antiques, and modern knick-knacks. Another one is selling cute goods of all sorts. Old fountains still in use are everywhere. Smiles are as common as wanderers. Time seems to stand still here. In short everything seems to concur for you to stroll, gawk and smile. Sheer romantic elegance.
Free of the throng, we enjoy the true Lourmarin, the warmth of the old Provence
It is Friday. It is market day. In other words it is an explosion of life and colours. The weekly market is nothing short of the best markets in Provence. "For five hours each day the town centre is packed with what seems like an endless caravan of bright spices, dried flowers, soaps, herbs, tablecloths, fish, meat, fruit and cheeses. The commerce starts to wind down at noon and is miraculously gone 30 minutes later."
The views are not the only felicitous features of Lourmarin. Above all, here I feel the authentic heart of Provence still beats strong. After a day of jostling and marvelling at the village, we make our way back to the car. Our eyes full of stars and our head full of warm memories. There is a kind of magic in this village that is is breathtaking in its settings. A kind of magic that is unique yet traditional in Provence. I am relieved to see that Lourmarin has not yet become some kind of mecca for tour buses and pilgrims on foot. With a fiery pink sunset as companion we drive back and arrive in Marseille as darkness gathers.
You can read the other leg of our Provence journey here. Another village of character, Les Baux de Provence, also hailed as as one the most beautiful villages in France.
xoxo M. Let's share our travel inspiration.