Aix-en-Provence: a place where the magic of Provence happens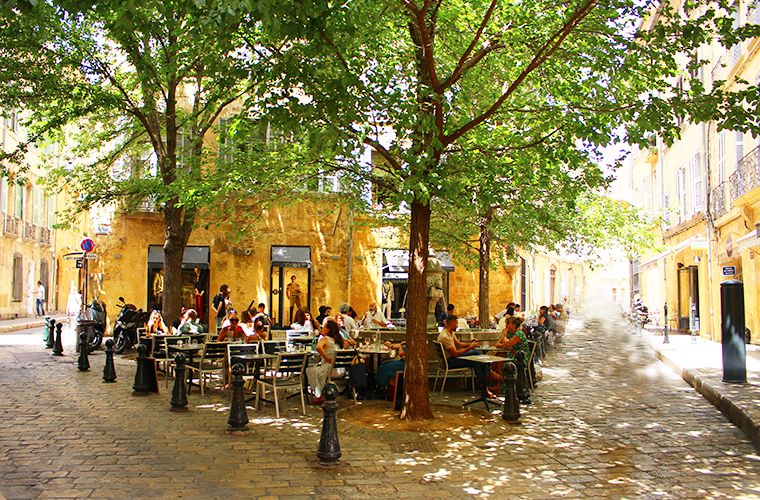 They call it the city of Fountains. And also the city of counts. It is a place where the number three is part of local lore. I am returning to Aix-en-Provence. A place where the magic of Provence happens. Surely one of the most charming cities in Provence. A city that holds a very dear place in my heart. A place where I spent two years as a university student. As a result, i am flooded with this soaring sense of excitement and discovery. A feeling that most of us have when ascending over familiar landscapes.
Ever since I was little, I have loved the scent of Provence. I partly grew up in Marseille, surrounded by all the magic that Provence has to offer. It is the iconic landscapes; The unique colours. That distinctive light. The back roads; Experientially, over the years of driving across Provence, i have indulged in a world of vibrant colours. Today, as we get ready for our road trip to the city of fountains, my excitement is running high. I feel like a kid again. A feeling that is echoed by my two travelling buddies.
A place that catches the light awesomely, majestically, joyously
We are now halfway through our road trip through Provence. Our heads are still full of magic from the previous days' wanderlust. It's just after 8am when the sound of the alarm breaks my sleep. It's the day to head over to the city of counts. A little over 90mn later, after gulping down a typical French breakfast, we hit the road. The motivation of a road-trip is of course down to personal motivation. In our case it is the desire to roam freely. The day is sun-drenched. The experience of driving today feels like we are being lifted and cradled in the arms of fluffy clouds on a summer day.
The Provence that artists have long depicted is one that is resplendent with vineyards. Sprawling fields of lavender; Glowing meadows. Hilltop hugging hamlets and small villages. In the summer, the winding scenic routes call for leisure driving. The farmlands are painted violet as lavender blooms and lavender fields unfurl.
The quaint city of Aix-en-Provence is an image of snoozy yet dynamic and classic Provence postcard. It lies in this picturesque region of Provence Alpes Cotes d'Azur, south of France. One of the most culturally unique regions of France. It revives memories of past aristocracy and French art de vivre. Over the years the city has continued to draw the opposite of a smattering of crowd. Today though, the city's beauty remains.
The magic of Provence is la douceur de vie
Approaching the city, we can on one hand see the white peak of La Montagne Sainte Victoire (Mount Sainte Victoire). On the other the expanse of rolling tree-tufted hills. It is easy to see what attracted the likes of Cezanne or Picasso here. We park our car and embark on our journey of meanderers. We walk and we peddle down. Sauntering. Meandering. We hop on and off touring buses cruising the city like hungry kids as we lick our ice creams. Streets, lanes and squares are beautified with fountains sprinkling healing waters over here. Elegant century-old buildings over there. And this in addition to the plentiful of cafés.
This is the hometown of Paul Cézanne and Émile Zola and in particular Cezanne whose presence is everywhere here. Either it is a place where he lived; Or somewhere that bears his name. Or a place that he painted. We stroll the Paul Cezanne Avenue. This one leads to his atelier located on Lauves' Hill. We drive up La route de Cezanne which leads to Mount Sainte Victoire, Cezanne's obsession. He painted 44 oils and 43 watercolors of said mountain.
We have been on our feet for a while when we head down Cours Mirabeau. The main boulevard of the city. Trimmed heads of plane trees line the street on either side. Packed cafés complete the line up. As to the sidewalks they are a "constant carnival" of people strolling and chatting. This really takes me back to my student years when we would seat, splash and socialise on whichever benches we could find down the busy cours mirabeau with our sandwiches. Quite an experience. Loads of emotions and mostly gratefulness.
Here the magic of Provence is "flaner"
So much of what sun-drunched Aix-en-Provence is in its features. Its 40 gardens; the seductive mini squares. A melée of architectural styles. The gurgling fountains lazily spewing crystal clear water. My favourite are the grand La Rotonde and the one at la place des 4 quatre dauphins, undoubtedly the prettiest of fountains; Then there are the ornate balconies sitting alongside pigeon-gray shutters built by Aixois nobility. Outstanding. Vibrant. Graphic.
Above all though the overwhelming feeling here is that of slow pace. Wandering. "Flaner" as locals would say. Nothing here is about speed. Rather it is about laidback. The air is suffused with the smell of a late summer afternoon. A mix of lavender, wild sage and rosemary. A smell that nourishes this unusual feeling of serenity mixed with exhilaration. The magic of Provence.
An exploration of Aix-en-Provence and any of the wonders of Provence wouldn't be complete without the open air markets. Every village, town, city has at least one and the city of fountains is no exception. The vegetable market unfurling under the plane trees is a feast for the eyes. It is said that Provence is the bread basket of France and it doesn't get any fresher than here. "With its mountains of eggplants, ranks of honey jars and fields of fresh goat cheese, the morning market at Place Richelme is a foodie's paradise".
Three is a magic number
The star though for me is the Calisson d'Aix. A melt-in-the-mouth cake-like almond candy whose history is as rich as the city's. As the story goes, the number three here is part of local lore. First of all the city was founded by Caius Sextius Calvimus (three names) in the year 123. It was then originally called Aquae Sextiae Saluvium (again three names). Step two the name was later changed to Aix-en-Provence (once again, three names). Finally the city is often simply referered to as Aix (need we repeat, again three letters).
The Calisson follows the same pattern. It not only has three ingredients, but also three layers – the icing, the paste and the rice paper. As a student, i would gulp these down quicker than i could breathe. They were my daily treat. I still today wonder how my teeth held strong all that time. A day in Aix-en-Provence without Calisson is just not an option for me.
There are places that you fall in love with at first sight. Aix-en-provence is one of those. It happened to me when i was a student and it still is as vibrant. Returning here feels like coming back home. Of course the bewitching natural beauty is one of the reasons. So is scooping out the architectural wonders. In short though there aren't better vantage points than the douceur de vivre here.
You can follow the remaining of our Provence road trip here.
xoxo M. Let's share our travel inspiration.