Thermal baths and food culture in Budapest – Part 3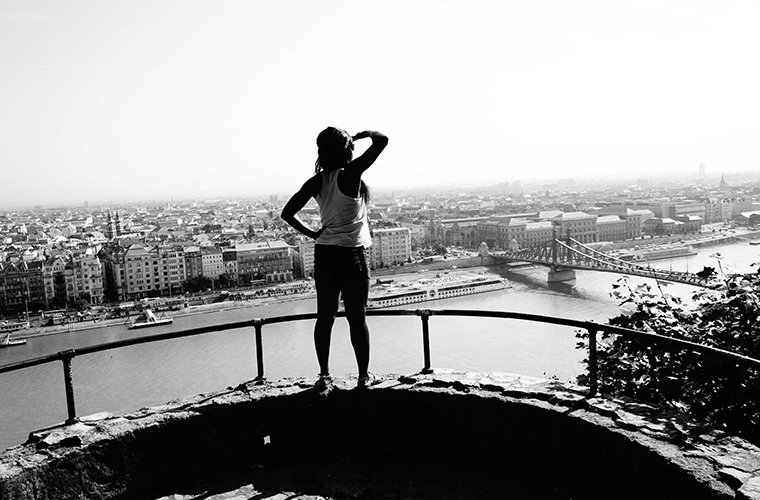 Danube river. Thermal baths culture. Budapest.
A couple of years back when i first thought about heading East I googled Budapest. The culture of thermal baths is among the things that intrigued me the most. Fast forward to last September when the girls and i embarked on an escapade to Budapest. Relaxing and luxuriating in traditional thermal baths in town are firmly on our minds; Just as much as chilling at some of the coolest cafés. Just as much as checking out local hot spots.
The eagerly awaited  thermal baths
Our wander towards Gellert thermal bath house continues. We cross Liberty bridge towards Buda and there it stands. Gellert hotel, home to Gellert thermal baths. The building is impressive. Like many building by the river bank, it is a reflection of the city's prestige. The colours and design motifs are striking. The art nouveau architecture of the house is gorgeous. This is one of the most beautiful bath house in the city.
Am not quite sure what to expect. A mixture of excitement and curiosity feels us. The bath culture runs deep. It is an heritage from the Romans, Turcs and Austrians. This is part of local's daily life. Budapest counts more than 100 thermal springs. Approximately 15 thermal bath houses are in the city. Gellert thermal bath is built above its own spring of thermal water. What is a girl to do but oblige 😉
Eagerness leads the way
Marble; Colourful stain glass; Mosaic tiles. Close your eyes and just imagine. You can actually smell the hot spring before getting in there. Surprise. Awe. Where to head first. Sauna; Hammam; Outside terrace; Massage rooms; Skylit indoor pool; Wave pool.
As our bodies unwind, we move from one room to the other. Fist of all, from the coller to hot baths.  Then onto steam rooms. We wander from a fiery sauna to an icy cold bath to experience the difference in the degree of fun offered. Our skins tingle. Bath temperatures range from 4 (yes 4) to 38°c.
This is a thermal bath marathon at the speed of a turtle. I seriously do wonder if people in Budapest are anything but relaxed. Who wouldn't when you have access to this so easily?
It is the whole package that makes the experience. The decor; The atmosphere; People watching. The indoor pools reverbarating with the muffled echoes of voices and water. Healing and relaxing guaranteed.
By the time we settle by the skylit pool we are truly on the opposite end of tense
I want to understand this culture and happily chat away with a very elegant lady. Her name is Ana. She tells me she come to Gellert twice a week. She also does Szechenyi once a week. Often she will come with her friends. She has made friends here as well. In the winter, she sometimes comes everyday. Blimey! This she adds is part of her overall wellness. She cannot imagine having it any other way.
Bathing in Geller is just that. Fabulous. Sheer pleasure
Rested, we stroll the city in a state of utter relaxation as darkness starts to crawl. Light as feathers. What a soothing way to end a beautiful day.
Szechenyi and Rudas bath houses are postponed until our next visit. Szechenyi boost impressive outdoor and indoors pools. The stunning yellow structure in Varosliget is at the other spectrum of town from Gellert. Part of the programme next time are thermal baths parties. A very harsh programme in sight!
As the sun sinks the centre of the city springs to life
Bars in Raday utca (Kalvin ter) lit up. Bohemian vibes meet party. Budapest is not about to let us off without more surprises. We are cruising in Erzsebetvaros. From one courtyard to the other one, drinks and conversations flow at Gozsdu-udvar. Grabbing a high chair here and there, we saunter from a cocktail bar to a wine bar in the ruins (abandoned houses or kets).
We grab melt in the mouth burgers at Spiler. There is a cool vibe of untergrund berlin in the air. We are loving it. What hits me is the mix of local people from all age groups. They sure know how to have a good time in this city.
Food is everywhere in Budapest
The culture earthy and substantial food is very present. The owner of the place I stayed before meeting my friends tells me stuffed cabbage with paprika, rice and meat is a stable of Hungarian food culture. It's the dish mama or grandma would make. Just as much as marhaporkolt (meat stew with load of paprika). I therefore head to the small restaurant he suggested nearby. 20mn later, i am stuffing my face with stuffed cabbage. Divine.
The city boasts a few prestige old places. My friends and I couldn't miss the city's oldest cafe: New York palace. Tourists and locals flock here. It is the former headquarter of Hungary literary elite. To say we are in awe is an understatement. It is the quaint atmosphere of prestige houses. Yummy delicatessen for a lovely tea time.
During our stay, we downed the traditional Goulash soup. Licked our fingers in delight as we sample local pastries; We unguiltily tuck in langos. These are deep fried flatbread topped with sour cream and grated cheese. Best eaten warm. Guilt free gluttony.
This city simply stole our hearts.
xoxo M. Let's share our inspiration
New York palace is located Erzsebet korut 9 // Spiler at Király utca 13
[SLGF id=1383]