Saintelyon 2017 night trail running: the exhilarating thrill of challenging myself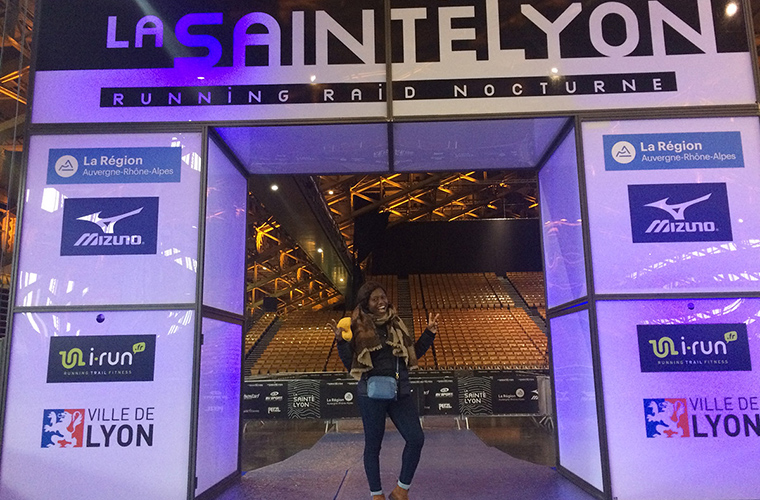 I get the running bug when i am 11 or 12. I start with short distance running. My teacher used to call me "yellow canary" because i often wore a yellow tee shirt. Later on, i inherited the nickname of "gazelle" (i like that one better that yellow canary). Overtime, i switched to long distance running and this is how i got myself into Saintelyon 2017 night trail running.
Night trail running in France's gastronomy capital
I got to discover the beautifully tradition bound Lyon last year for their yearly festival of lights. Magical and ethereal. This year, am back in the city albeit through the lenses of night trail running.
The Saintelyon night trail running is a yearly race taking place the first saturday of December between Saint Etienne and Lyon, hence "SainteLyon". With running distances between 11km and 72km, the fun starts at 10.30-11pm depending on the distance . Water and a survival blanket are part of the must have.
Born to be wild. Am I?
I am still recovering from a knee injury that has challenged my true understanding of patience for the past 2 years. Finally, it's here. D-2 and it is sinking in am about to go running in the middle of the night, with thousands of other "nutters". Weather forecast -6°c. Anticipation. Eagerness.
My running mates and i arrive on saturday, early enough to savour some of Lyon culinary delights. The day moves on, so does the excitement. We all line up by the departure gate. It's cold. Bitterly cold. The real feel is -8°c. Say what? Around me, smiles, frozen faces. Glances. Got to keep jumping to stay warm. Keep hands covered. What am i doing here, seriously? I should be under a warm duvet. Incertitude. Then baaam, the race starts.
Nothing but positive energy
The wave of people moves forward. All of this feels surreal. I look at my mate. No turning back now. Incertitude has gone. Sheer excitement has taken over.
Saintelyon night trail running – at the beginning, getting the hang of it slowly
Kilometers are swallowed. As we move further into the countryside, the breathing gets heavier. The air coming through my lungs is icier. My eyes are crying. Legs are heavy. Oops, I have my first tumble. I was not prepared for this much bluntness. Is it me or does everything seems bigger in the dark? Every little sound is magnified.
Has there been any sighting of bears or wolves in this area? My mind is boggling, already. However, i do not feel lonely. I am not alone. Spirits are high. We reach fueling at km12. Oh surprise. This is not the fuel station i am used to. This is a brunch in the middle of nowhere in the middle of the night!
Break is over. It's on again. This feels good for a while then bitter rawness strikes back. A strong gust of icy wind reminds me where i am. I retreat in my own bubble and switch on robotic mode. Tackling the hardest incline so far. Breathing is harder. My heart is pumping. Legs feel like wooden cotton wools. Have to keep looking down to avoid gracefully landing on my face again. Creeping shadows. Painful darkness. Somehow my mind keeps bouncing back to Blair Witch and other woodland creatures which get me to increase my steps.
I was not prepared for the utter rawness of night trail running
Celia Cruz is blasting « la vida es un carnaval in my earphones ». I raise my head, look up and start humming. There is utter beauty in this darkness. Runners in the distance look like lanternfish. I feel like i belong to this hurdle.
Saintelyon night trail running – when the going gets tough – 3km to go
3km to go. My knee is very sore. I concentrate on holding my body straight. Eminem's "loose yourself" is now pumping in my earphones. Didn't I read somewhere Obama was known to listen to this song before a big meeting? Well then… I turn the volume right up. Come on girl! 2km to go. Gotta protect the injured knee.
1km to go! The organisers must have got it wrong. This final kilometer feels like more to me. Down the river, up the stairs, over the never ending bridge. Not even looking at the scenery anymore. Oh there is the finishing line. Oops photographers. Speed up, come on speed up, speeeed up! Smile for the photographers. Smile.
Am a finisher
My heart is pumping. The knee is throbbing. My smile is wide. I am washed with a great sense of achievement and pride. I am humbled by mother nature rawness and greatness. My utter admiration goes to all 72km runners. I am a finisher. See you again next year, for the 44km challenge.
xoxo M. Let's share our inspiration