Inside Rio biggest favela Rocinha: how the culture of survival drives the community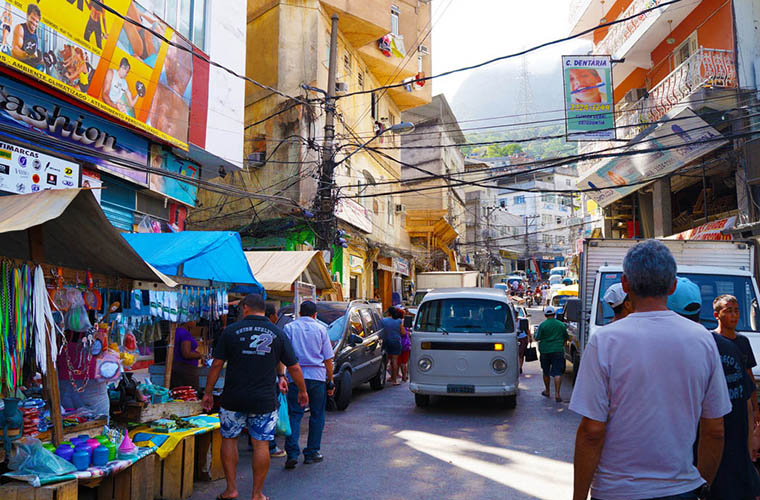 17 years ago, i made my bucket list of the countries i would like to experience. Brazil is right there. For me, it's like a myth. Starting with the extravagant Rio de Janeiro. For sure, the natural settings, the landmarks, the beaches are a powerful magnet. What pulls me in though is the local culture, customs and beliefs. Rio biggest favela Rocinha is still in a way a lawless area. In the opposite spectrum, It's also a bed of culture and creative energy.
I wanted to understand this duality. In 2012, Unesco designated part of city as a world heritage site. There must be a reason. Places like this attracts me like a moth to a flame drawn by the fire. In a positive way.
People of the asphalt and those of the hill
In Rio, there is this distinction. To put it bluntly, between people of the asphalt aka well off and people of the hills, the ones at the other end of the spectrum. I start at the roots with a dive in the favelas.
Approximately 1/3 of the population is in these hills? As far as i understand, there are approx 1000 favelas in Rio. I am Baffled. Looking at a favela is strange yet fascinating. I am starring at it and I am not sure I can fully grasp the extend of all of it.
Rio biggest favela Rocinha. Hasn't quite registered in yet. Houses look like mushrooms sprouting out of the mountains. Bulk buildings that seem to crawl up the hills towards the jungle.
Slavery. Rio had a huge amount of slaves. Free slaves build these communities after slavery ended because they had nothing. They could not ask the government for help either. As time moves on, Favelas have been growing because of the outpour of people coming in the city, looking for employment and unable to house themselves.
My friend and I didn't just walk in as you would in Copacabana
We have the help of Francois, an adopted french carioca who has been living here for years. Hopping on a bike, we shoot up towards the hills. On foot, we make our way through narrow lanes, little steps. Mixed feelings. In a way, I am not surprised by the humongous makeshift solutions everywhere. A result of decades of just making do.
A couple of days after we have made our way inside this labyrinth, I am just about starting to see why Rio biggest favela Rocinha wears it's nickname. An intricate maze. Chaos and order. Inventiveness. A whirlwind of activities.
Foul playing, drug gangs, corruption, government absence and presence. The communities are just driven to make do. On the opposite spectrum of my feelings, i am subjugated. Forget the neglect. These communities are creating beauty.
Smiles, kids running, laughing, women braiding hair, oldies whose facelines can tell lifetime stories. Art centres, street art, shimmering colours. It's vibrant. It's creativity. There is good and bad. It's energy to change things. There is ugliness and beauty. Toughness and gentleness. I am desperately trying to comprehend, to absorb, to capture. Self sufficient community? I don't know.
Locally grown associations are put together by Rocinha residents to help coordinates ressources. When you do not have anyone on hand to ask, what do you do? You do it yourself. You just do. No two houses are identical. No two doors are the same. Singularity alongside passionate and vibrant people.
I can now understand why it is called a city in the city
It's fully functional. Resilience. Resourcefulness. Flexibility. The culture of sheer survival. Raw basic instinct. Yet passionate people. Sensitive people. There is dignity is this harsh and brutal reality. This is the underlying feeling I am getting here as we are moving from one narrow lane to the other.
It's the evening. We are in a public bus, we miss our stop and get lost high up in Rocinha. Locals are seated on door steps. The air is warm. Voices are heard. Music is present. However, not many people wandering the alleys. The sense of fear inside me is striking. I do not feel at ease. We hang on to one another. This favela certainly wears a different face at nighttime. Thankfully, my mate's friend is a carioca.
I did not go to Alemao. For the obvious drug gang reasons
The creativity of the communities fascinates me, their sheer vibrance, the energy of the residents. I am also fully aware that the opposite is still very much present. Lawless. Danger. We also spend some time in Vidigal. Alemao though  is very much different story.
My experience of Rio biggest favela Rocinha is that we are not in the City of God. What gets me is the resourcefulness, the resilience, the creativity of its people. However, safe and secure certainly it is not. Culture of survival.
xoxo M. Let's share our inspiration