The thrilling Laghetti di Cavagrande del Cassibile: a vibrant hike in Sicily's grand canyon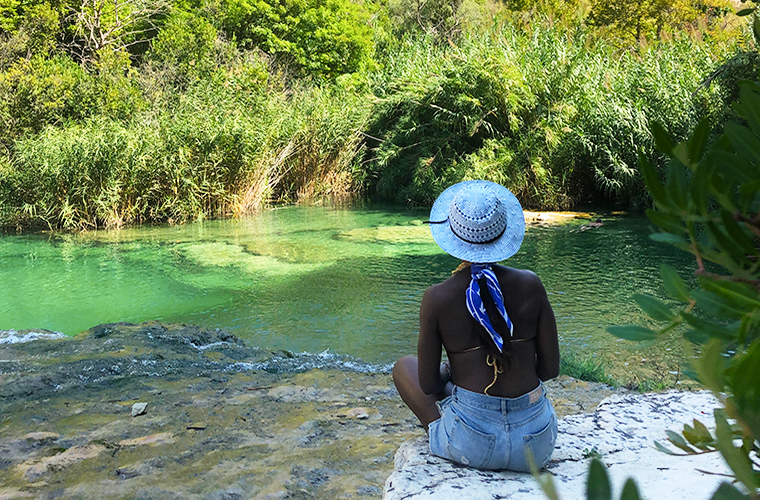 It's all about the thrill of discovery and copying locals. We have been driving for the past 30 minutes. Our destination is Cavagrande del Cassibile, Sicily's grand canyon. It is mid morning and the sun is already blazing. Rolling landscapes and pasturelands flank the winding road. Hairpin curves complete the decor. The geography here wears an explosion of summer textures and colours. Fun areas to explore; Backcountry sites. I cannot quite get the smile of face. This is candy land for the big kid that I am.
We have heard about backcountry Laghetti Cavagrande; or Cavagrande del Cassibile. It is in Contrada Avola Antica and is referred to as Sicily's grand canyon. The canyon is located in Orientada nature reserve of the same name. There are many trails in this reserve. And soon enough time to hit the big stuff. We leave our car nearby under the olive trees. All of us have a fondness for hiking long distances. The degree of roughness though varies from one to other. I am one of those with a penchant for the rougher side.
Walking boots and water to tackle Sicily's Grand Canyon
Prior to this hike my knee has been giving me severe discomfort. When you are hiking you are likely not paying too much attention to the signal your body is giving you. This is because you are lost in the moment. The kicks provided by those shots of adrenaline your body is producing are priceless. I was particularly aware of the need to protect my knee if I wanted to enjoy this moment. If I was to let myself go.
The beginning of the unofficial trail route looks weird. Across from what looks like a "weird bar" are crates stacked together than one must to climb to start the hike. It's the unofficial entrance. Everyone now uses this one. Very Sicilian it appears. From here, the roughly 60 minutes steep descent snakes between escarpments.
Especially scenic, we follow the route loaded with tantalising perspectives of the valley. Cascading slopes complete the view. Birds are chirping. The sun is blazing high. And inevitably sweat starts pouring early on.
It's is about as peaceful a trail as we could have wished for
The view gets dreamy as we reach the first water pond. A lush green-fringed natural pool that is just perfect for the swim we have been waiting for. The trails then continues trough a more densely forestry. Roughly 500m from the first pool we are rewarded with jaw-dropping views. The route opens to bare slopes of rock and deep cavities that form the other 3 main pools.
Picture idyllic rock-fringed natural pools surrounded by a sweeping 360-degree panorama of the mountains above. I don't think we could have asked for a more stupendous hike. To paraphrase, "the bright turquoise waters are like jewels embedded in the Earth. It is like arriving at a fairytale" valley: sharp granite peaks; Shimmering blue-green water; Blankets of lush reeds and tall aquatic plants.
The freshwater is simply incredible. Rocks here and there are slippery because of the algae. In addition, for that moment of magic the pools have several jumping points.
Why the name Sicily's Grand Canyon?
The Canyon where the Laghetti di Cavagrande del Cassibile is located is I believe one of the deepest in Europe. The lagoons are a network of waterfalls and cavities. Locals here call them "uruvi". On the other side of this route in addition is Ddieri de Cavagrande. It is a sinuous network of coves and headlands. Further, several caves in this reserve were home to prehistoric civilisation. Their dimensions are jaw-dropping. 300m deep and 100km long.
For sheer excitement, nothing compares to the hike up. A complete different story. A steep 80-90 minutes ascent under the sweltering heat. The body literally spewing out buckets of sweat. Yet, the zigzag line of the route and the spectacular climb is rewarding with every step. That is until we reach the pile of crates. We then wish we were back there in the lagoons again.
To sum up I came, I saw and I was conquered. I was looking for an escape, a fantasy that bore no correlation with reality. And I found more. In other words the charm of this road trip lies in the minute by minute adventure. This format of adventures in short feeds my craving for intensity and satisfy my need for exploration. You can follow the remaining of this Sicily exploration here.
xoxo M. Let's share our travel inspiration