The culture of food in France: traditional French food in France's gastronomy capital: Lyon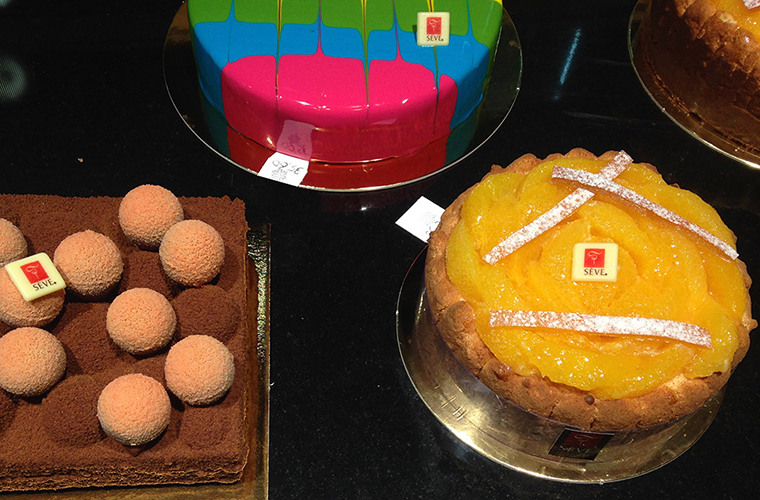 Welcome to France's gastronomy capital.
The culture of food in France is striking. Food is a serious matter here. Discussing food whilst eating is normal. Breakfast, lunch, tea time, apero, dinner… Challenging your stomach muscles is a local sport. Fighting with your jeans after all that feasting is another one.
What is it that people love so much about food in Lyon? Is it the local recipes? The apparent simplicity? Or the home-cooked warm feeling? The local ingredients? We are in Lyon to dive straight in the local culinary customs.
My  friends and I are in Lyon to attend the festival of lights. This is also the perfect occasion to sample some of Lyon's culinary traditions. Give our taste buds something to forever remember. This is the photo story of our journey.
France's gastronomy capital. Say what?
My first time in Lyon. It is cold, bitterly cold. The icy gusts of wind sharply remind us that we are in December. This calls for earthy and warm substantial food. Here, the art of food is art. It appears Lyon has the highest concentration of restaurants. We are in for a treat.
We stroll and embrace the heart of the town i.e. the "halles" market. This market supplies the best chefs in town and ordinary locals alike. Wow. Being in here is like attending a performance of the swan lake. Everything seems carefully orchestrated in a disorderly manner.
Lyon is famous for its "bouchons Lyonnais". These are taverns serving traditional local food. Some of these have a long political history (such as Le Garet). We try a few of these. What strikes me is the warmth and home-cooked feel. It is the rustic simplicity in the surroundings; Red and white tablecloths; Ancient memorabilia; Brick and wood. It is the earthy, popular and rustic dishes. Straight from the market. And loads of meat. It is above all the atmosphere with no airs and graces.
Have a look at these: saucisse de lyon (sausage), quenelle (a mix of cream, eggs and pounded meat or fish), gras double (tripes). There is more: rosette Lyonnaise (salami), salade lyonnaise (salad leaves topped with crusty bacons and poached egg), paté, porc and lentils…
Wine, cheese, delicatessen are fully part of the experience
Did I mention cheese? Saint Marcellin, rigotte de condrieu, Saint Felicien, cervelle de Canus, Comté cheese. Wait, sweet tooth aficionados are in for a treat as well; bugnes, brioche à la praline, tartelette à la praline rose to name but a few.
Eating in Lyon is a whole experience. Culinary traditions that are passed through generations and held in high esteem. Is food a religion in France's gastronomy capital? It so very much looks like this to me. The "halles" market resemble an art gallery of food. Les "bouchons" are a grandma's dining room. I would happily get a shot of that culture regularly.
xoxo M. Let's share our inspiration
Le Garet restaurant, located 7 rue du Garet, 69001 Lyon // La boulangerie du palais, 8 Rue du Palais de Justice, 69005 Lyon // The halles Paul Bocuse market, 102 Cours Lafayette, 69003 Lyon
[SLGF id=1810]