The spine-tingling Geilo ice music festival in Norway: just otherworldly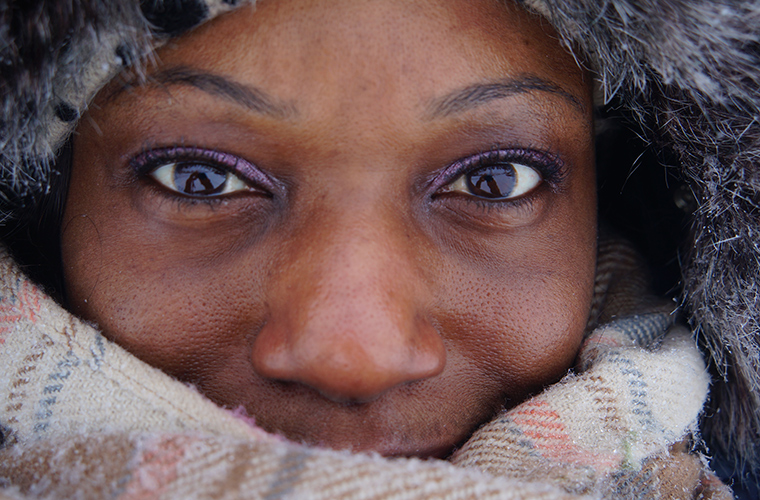 "Wherever you look there is only one colour; The colour of ice". Welcome to Geilo ice music festival in Norway. The surreal music gathering held in this tiny village every first full moon of the year. The concerts are held solely outdoors. All instruments are crafted from snow and ice. Not any snow though. Only naturally harvested snow. And only the fjord crystal clear ice.
This is my first trip to Oslo. The cold air outside the plane is paralysing. Literally freezing. The air nearly freezes my eyelids as i struggle to focus. Temperatures are in the region of -7 but it feels so much colder. I am here to explore this scandi cool Oslo, the capital of the land of the Vikings. First and foremost though, i am heading east to the mountains.
It is early. The light outside wears this dark blue hue so typical of winter in Norway. Everything is peaceful. Everything is calm. I am about to board the Bergen train line from Oslo heading. We are heading to the village of Geilo. 800m above sea level. I do not what to expect when i get there to be honest but i am the exact opposite of indifferent. Norway may not be the land of never-ending winters but it sure does feel like it.
Where to start with Geilo ice music festival?
Geilo holds the bragging rights for the world's first ice music festival. It all starts in 2006 with the Norwegian percussionist and composer Terje Isungset. He is the brain behind this. This is his and the first ever event that celebrates ice music. It means music played of ice-crafted instruments. He nurtures this idea after a performance at a waterfall.
If you can stand the chill all concerts are held outdoors in freezing temperatures. It means all the instruments are played for a limited period of time as musicians have to toy with frozen fingers. They also have to deal with uncontrollable elements. And let's not forget the melting instruments.
Thirdly, there are so many factors to consider; The ongoing temperature. The porosity of the ice itself. Other key elements such as when do musicians start the sound check? How do their fingers cope with the freezing temperatures? How long can a musician play? Do musicians have the time to practice? Is practice actually destroying their preciously crafted instruments?
Travelling to a sustainable winter wonderland
The train arrives in the village of Geilo. The ride all the way here is nothing short of magical. Awe-inspiring spectacular nature. Scenic. Picturesque. Beautiful landscapes straight out of a Disney winter tale. High mountains stretches create a captivating backdrop. Cute stations. It's the most ethereal train journey i have experienced in my life. By far. To put it in context, Geilo seats neatly in the mountains in eastern Norway. A short train ride from the artic circle. It's a winter wonderland. The starting point for winter adventures. As such heaven for cross country skiing; sleigh ride; snowshoeing; fat bike. The majestic Hardangerjøkulen glacier seats right on the other side of Hallingskarvet park.
I am greeted with what feels like an icy -20°c. Heaps of fresh snow complete the look. It feels like i have travelled to kingdom of cold. The spectacular natural light show the sun projects on the white winter coat blinds my eyes. I reach for my eyeshades. The length i would go to for the sheer joy of discovery. I am suddenly very happy with the coats of layers i am wearing. It's amazing how you van keep warm in these temperatures. My attention shifts to the ever growing agitation.
Magic in the making
Larger than life ice sculptures here. Raucous agitation there. It is not quite clear to me yet what it is like to create an instrument out of ice. There is something in the air. Along with the soaring noise and voices, artists seems in an effervescent mood. Just as much as the growing crowd. Witnessing the actors in action gets mesmerising. Some musical instruments are being hand-crafted before our eyes. This is a process that can take hours and sometimes days i am told. Others stand like giant frozen forms; Ready to spill magic. Fragile and sturdy at the same time.
Musicians, sculptors, technicians and even sound engineers are all hands in deck. Different nationalities mingled together. World class artists working with one another. On the left a man is holding a chainsaw. His body moves left and right. Protective gear shields his eyes. Powder and chunks of ice flies. Slowly the block takes the shape of something i cannot quite recognise yet. Fresh snow is added and water poured on top. Axes; ice pics; chisels and mallets; They transform the purest fjord ice into beautiful musical instruments. Strings. Percussions. Brass instruments. One by one they are slowly brought to life. Magic in the making. I am like a kid in a toy shop.
Ice horn, reindeer skin and ethereal sounds rule Geilo ice music festival
Hours pass. The atmosphere is filled with a combination of excitement and eagerness. Am sure some of us are almost frothing at the mouth as a consequence. The festival is about to start. We are sitting on blocks of ice lined with thick reindeer skin. A combination to maximise warmth. This makeshift outdoor venue creates an intimate atmosphere. It is now snowing gently. There is nothing between us and the musicians except the constant reminder of winter. The light casts shadows that i cannot quite qualify. Alluring. It is all very surreal.
It is now very quiet. No one moves. The stone silence makes my skin shiver. Or is it the freezing temperature. On my left the girl with the blonde hair sits still, her eyes closed. The ice horn then releases a dramatic sound. A beautiful resounding sound. It is even haunting somehow. The air "a glimpse of light" follows. There is a rhythm to this air that takes my breath away. I wasn't expecting this and chills run down my spine. It is as fascinating to listen as it is enchanting. It is almost spiritual to be honest. Sometimes it reminds me of aboriginal music.
To the edge of improvisation
Ethereal sounds fills the air of Geilo with magic. Imagine as you enter a mysterious world; Like the one you may have had in your dreams. The music is mainly experimental. The sounds the instruments make are otherworldly ones sometimes. High pitched at others. Ethereal most of the time. The shape of the instruments seems to mirror nature as snow continues to fall. The sounds blend in beautifully. This is an emotional experience.
Can you imagine playing an instrument that isn't constant? This for me is the definition of amazing. Making the unbelievable happen. It is art. It is exploration. Sometimes it is awkward in a non descriptive way. It is adventure. I like this very much. This makes me very happy.
The public responds with a sustained and enthusiastic ovation when the performance ends. It seems to me there is no need for perfection here as most is down to improvisation. One cannot predict how nature will behave. One cannot control how fast the instruments may melt. And that is the beauty of it all. The star here is Nature. The star here is the ice.
Sadly the battery of my camera bowed down because of the extreme temperatures so no video. However, this by Sarah's music pretty much gives a gorgeous overview.
An ovation to nature
In short Geilo ice music festival is magic in the making; The artists build a temporary venue out of ice. They also build temporary instruments. When the concert is over the elements are left to reunite with nature where they belong. In between you travel with them where magic happens and your eyes glisten. It is unusual. It is gorgeous. Geilo ice music festival is a "true ovation to water and mother nature".
You can follow the remaining of this Norwegian adventure here.
xoxo M. Let's share our inspiration