Luxembourg city: experience Europe's most beautiful balcony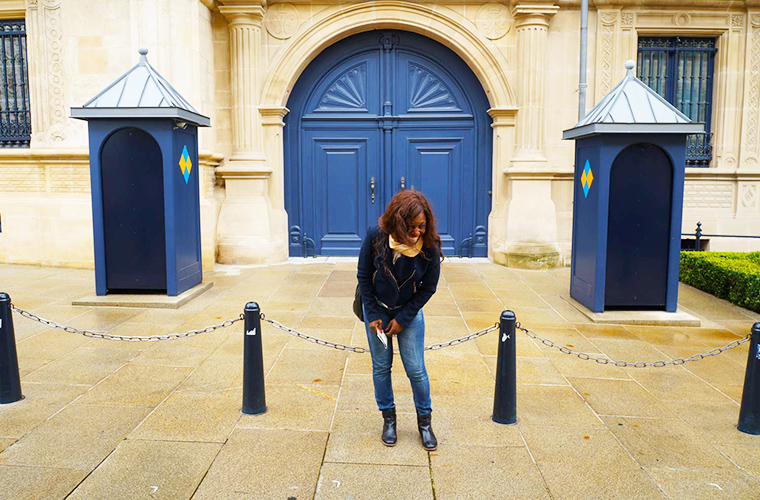 The world's only grand duchy! For my birthday i am surprised with a long weekend break to Luxembourg city. The Duchy of Luxembourg is an easy 2h15 train ride from Paris. It's the only state ruled by a grand duchess (or a duke). The city is quite literally nested in and above a canyon. Grabbing my passport and hitting the road regularly is a childhood dream that is becoming more and more a reality.
Luxembourg city is absolutely perfect for slow travel
Luxembourg city is shaped around 3 history rich areas. The old city and the fortress, former home to knights and soldiers. The lower city is where artisans and traders had settled (that is Grund, De Clausen and Pfaffenthal). The third area is Kirchberg (very modern as opposed to the two others). Walking everywhere is so easy. However, in a rush, the Petrusse express city train will kick the exploration process up one notch.
Spectacular ravines; ridges; small cliffs and viaducts to hop on either side of the city. Now if there is one thing that can easily be done here is go mapless most of the time. My favourite kind of travel.
Having fun in a maze, with no need to rush or come out
We spend our first day exploring the old city working out our own city tour as we go along. Our wandering leads us to the Grand Ducal palace, Notre-Dame cathedral or Gëlle Fra (monument of remembrance). The architecture is simply jaw dropping. Those tiny pedestrianised cobbled streets are an invitation to get lost into. I particularly love the very pretty "passage du palais".
Some alleys are so small you can touch both walls on either side by opening your arms. The old city is a tangled historic heaven with original buildings and walls. An absolute gem. Unused wells set my imagination in full speed to travel back in time.
We then follow the city's suggested circular walk. This is an environment orientated route. We wander towards the Bock Casemates. The world longest underground tunnel system. Wow!! I am not the greatest fortifications fan but this simply leaves me speechless. This network of galleries was once part of the city's intricate defence system.
Next, we move towards the corniche also known as les ramparts. It then hits me as to why this pedestrian promenade of Luxembourg city is called "Europe's most beautiful balcony". Oh.My.Gosh! As you follow the old city 17th century fortifications and gaze at the valley of the Alzette river below, the view is just breathtaking! Gazing over this +/-150ft drop, I feel like i am watching an artist in the process of slowly painting the countryside.
Grund is the perfect picture of romantic
For our second day, we head for the lower part of Luxembourg city at the base of those majestic rocks. We meander through Grund. This part of the city is wonderfully romantic. The ancien monastery area is preserved in its grand style. The view of the railway viaduc is impressive.
We settle for a drink in a small cafe. Time simply flies as we get talking to locals over beers about the history of the city. See what i mean by slow travel? Grund is simply picture perfect with those cobbled streets and flower baskets. Pretty houses in pastel colours are simply out of this world.
There is a lift from "plateau du saint esprit" (what a name ;-)) located near Saint esprit street that takes you from the upper part of the city to Grund. My partner in crime goes for the lift. I choose to walk.
Our wandering then continues towards Pfaffenthal in the Alzette valley. Equally pretty. Pretty and charming suit this city really. The view of the area surrounding the river between la porte d'Eich et la porte des Bons Malades is simply gorgeous. From there, onto rue du Pont, a walk along rue Vauban is beautifully medieval. I swear, i feel like i am spending the whole weekend with my head shifting left right, then right left. I am just trying to mentally capture it all. Smitten.
An ocean of green in the heart of the city
For our last day, our plan is to explore the modern and futuristic Kirchberg. Home to finance corporate buildings and European Union institutions, a bit like la Defense in Paris or the City in London.
We do not after all as we end our journey at Le Pont Grande Duchesse Charlotte. Rather, we spend the whole day wandering through parcs. Me meander in Le Parc Municipal then Le Parc des Trois Glands. It's an ocean of green running from Pfaffenthal to the old city, la vallée de la Petrusse and Le Pont Adolphe. The sun in my back and the warmish temperatures feel like a late afternoon in the fields. Put it bluntly, time has stopped. And this is what i love. Make plans and then scratch them. Lost in spontaneity.
Chocolate to die for and gorgeous coffee houses
The "place d'armes" is becoming our nibbles headquarters. I am just going to mention gromperekichelchen, a potato cake meets a potato fritters. Yummyyy!! My favourite cafe is la Brasserie des Nations for their yummy choice of local dishes. For the daily fix of chocolate, it's love at first sight with the Chocolate House. The choice of chocolate goodies and delicatessen is out of this world. The smell as we enter the place is enough for my brain to switch to autopilot. For my birthday cake, what else than a special treat from Namur, the oldest tea place in the city; Just three words: heaven on earth.
Romantic meets scenic
I absolutely adore Luxembourg city. Pastoral charm meets picturesque gorges. It's peaceful yet energetic. A honeycomb of tunnels and galleries. Above all, friendly people who are more than happy to share the city's rich history and mythical legends. My favourite part of the city has got to be Grund. From there, you can really take in the richness of the city.
I am already dreaming about a road trip to explore rural areas. The gorges of the Mullerthal region, the Red Rocks, the Ardennes valleys and the Moselle river valley.
xoxo M. Let's share our inspiration
The Chocolate House is located 20 rue du marché aux herbes. Namur is located 27 rue des capucins
[SLGF id=1004]